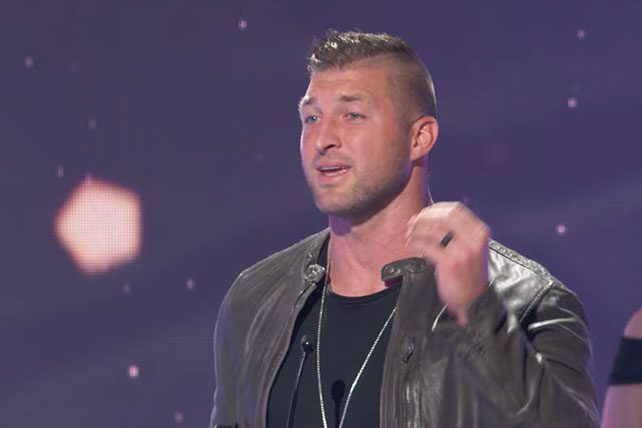 During an acceptance speech, Tim Tebow at K-LOVE Fan Awards, declared Jesus to be the only MVP. Here's what happened:
What Exactly Did Tim Tebow Say at the K-Love Fan Awards?
Former Denver Broncos starter and University of Florida 2007 Heisman trophy winner, Tim Tebow, gave a speech at the K-Love Fan Awards that has gone viral, and for good reason.
During the 2022 awards ceremony, Tim Tebow accepted the Sports Impact Award. According to K-Love, this award "is given to an MVP who uses their time on the field or on the court for something greater than fame."
And many who follow Tim Tebow aren't surprised he's received this award. His foundation, the Tim Tebow Foundation, has initiatives to fight human trafficking, help children with medical needs, uplift individuals with special needs, and care for orphans.
The foundation's mission is to "bring faith, hope and love to those needing a brighter day in their darkest hour," and this mission, for Tim Tebow, is apparently about glorifying Jesus, not himself.
Even in accepting this great reward, Tebow approached it with humility. Starting off, he said, "It is an honor to be here, especially around so many legends and inspirations…so many heroes of the faith."
And he continued on, encouraging these entertainment leaders in their faith. "I just want you to be encouraged because I know it gets hard for you, but you inspire so many people. And I want you to keep going because you have no idea the impact you're making on so many people around the world."
But his speech wasn't only about the people. Of course, he pointed it back to Jesus. He said, "You fill people with the urge to want to follow Jesus. Don't stop that. That's why what you're doing matters."
Later, he passionately discussed his efforts to serve Jesus, and then declared, "Ultimately, there is only one MVP and he died on a cross on a rescue mission for humanity."
Watch the speech here:
What Inspired Tim Tebow to Focus His Efforts on Helping Others?
During his speech, Tebow ignited his passion for philanthropy.
"When I was 15 years old, I had the opportunity to meet a boy in the jungles of the Philippines, who was born with his feet on backwards," he began, fighting off tears. "And because of that, his village viewed him as cursed, as insignificant as a throw away."
See more about Tim Tebow at K-LOVE Fan Awards on page two: