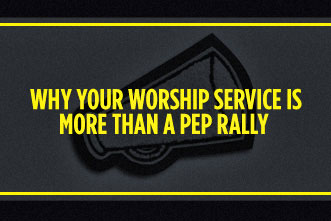 "Pastor, the minute you decide church must always be exciting is the moment you begin turning the worship services into pep rallies. After that, it all goes downhill."
I said that on Facebook the other day and enraged a few people.
"Worshiping the Lord should always be exciting," one person insisted. I replied, "I'm doing the funeral of a 53-year-old man today. It will be comforting, but not exciting."
I understand where the guy is coming from.
Truth be known, my post probably ticked off the young me, the person I was some 40 years ago.
At the age of 33, I moved to the pastorate of the First Baptist Church of Columbus, Miss., a great old church in a historic town, but a congregation that had declined somewhat during the last years of the previous pastor. So, the young, energetic visionary that I was (I'm bending over backward to avoid saying "whippersnapper"), I asked the church to erect some billboards around town urging people to visit "The exciting First Baptist Church of Columbus."
I admitted to our staff that, mostly, I was hoping to convince our own people.
These days, when I see churches announcing that they are exciting or friendly or dynamic or whatever, I figure that, for the most part, they are trying to convince themselves.
Shouldn't a church be exciting?
You are involved in the greatest work in the world, serving the Lord of the Universe, the Savior of the world, the King of Kings, in a ministry that changes lives and results in a blissful eternity for those who believe. What could be more exciting than that?
It is exciting. But not always.
The Lord did not liken serving Him in ministry to field-work on the farm without thinking. Ask any farmer. Life on a farm can be exhilarating and mind-boggling with the glorious sunrises, the "feel" of the springtime, the joy of seeing crops come up and crops gathered in, and the delights of eating things from your own garden. But, more often, it's something far less than exciting and looks a lot like hard work.
Eventually, in any kind of lifework, we settle into a routine with regular highs and lows. Serving the Lord can be the greatest honor of our lives, and it can be downright painful.
That's real life. It's a lot like marriage. Anyone who goes into marriage thinking every day with this incredible man/woman is going to be heavenly, an honor just to breathe the enchanted air of this beloved one, will soon meet reality head on. There will be those special times, but not every day. Furthermore, anyone who says that every day of their 40 or 50 years of marriage has been exciting and magical would lie about other things also.
Please smile.
Trying to make a point here.