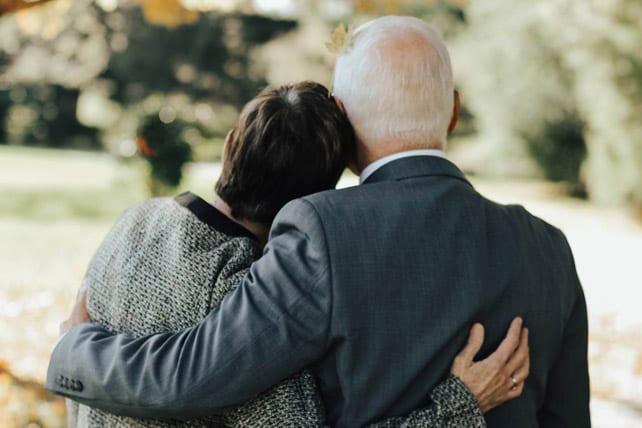 Many people struggle with what to say when someone dies.
Nathan's father passed away a couple of months ago, after battling an awful disease for three or four years. They had the blessing of knowing in advance what was coming; they had the awful burden of knowing in advance what was coming. Recently, he and I were talking about what people say when your loved one dies. I asked for his experience on the subject. This is what he wrote …
My first thoughts on what to say when someone dies were based on the biblical accuracy of things that are said after someone dies. Do people really believe what they say? If they do, where did they get those philosophies? I'm not suggesting there is a list of approved biblical phrases to use in this situation, only asking that we consider why folks craft and continue to perpetuate these flawed notions. I believe there is a danger turning faith into fairy tale for our own comfort. At the same time, it may help us to approach someone with biblical truths after we understand their line of thinking.
What to Say When Someone Dies: 6 Things
For the most part, I didn't find words to be the most comforting offerings. Actions such as hugs, meals delivered, prayer together or a listening ear were helpful to me.
"I love you."
"I'll give you a call in a few days."
"Can I check on you later this week?"
"I can only imagine what he is experiencing right now." (This one came from a dear friend who absolutely knew of Dad's relationship with Christ. It turned my focus from my loss to Dad's gain. It might not be the same for everyone.)
"I'll be praying for you and your family."
"We are going to bring dinner by. Is Wednesday OK?" (Very few people that I know will respond to the standard, "Is there anything I can do?" but almost no one can turn away a specific helpful gesture that has a time stamp on it.)
More on What to Say When Someone Dies
"Take care of yourself." (It was comforting to know that someone was concerned for me in all of this. It would be easy to slip so deeply into my grief that I neglect proper nutrition, sleep or even my mental health.)
"We are deeply sorry about the loss of (insert name here.) As you grieve, know that we are remembering and honoring him/her."
"I'll remember your (____) in many positive ways-with a big smile and a great sense of humor, always great with a story."
"I'm sure your heart is aching. We want you to know that we are here for you if you need anything. Expect us to check in soon."
"Sorry for your loss. I celebrate the life of (___) and am mourning him/her with you in this trying time."
"Our hearts go out to you and your family. Although I don't know exactly what to say, I want you to know that I am with you in thought and pray for comfort and peace as you remember (insert name here.)"
"Praying for peace to bring you comfort, courage to face the days ahead and loving memories to forever hold in your heart."
"(Name of deceased) will remain in our hearts forever. May you be comforted by the outpouring of love and support."
"Words fall short of expressing my sorrow for your loss. I am deeply sorry to hear about the passing of (name of deceased.)"
"I can't imagine the sadness you must be feeling from your loss. May the love of those around you help you through the days ahead."