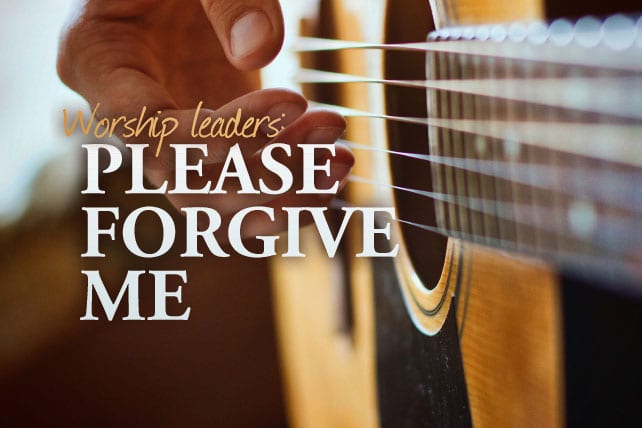 Dear Worship Leader,
I have a confession to make. It's hard to type these words but here it goes…I've vastly underestimated the power and importance of what you do.
There have been times I wanted to give you the hurry up and land the plane signal from the congregation, as it seemed to me that you were relentlessly singing that same seven-11 song (seven words sung 11 times) seven weeks in a row (or was it 11?).
Too often I'm bothered by your far-too-long-in-between-songs-explanation of the song we just sang or are about to sing. I've nitpicked about trivial matters (your arm tattoos inked in Hebrew, your skinny jeans that I could never fit into, your distracting yet well-trimmed beard, etc.).
At times I've been so distracted by these trivial issues that I've missed the point of your worship leading…to lead us to worship our great God and King. And now I realize that the problem has been mine, not yours, all along.
To be honest, I think I've subconsciously viewed worship as second fiddle to the lead guitars of prayer and Bible study, both in church services and in my personal quiet times with God. I've often complained about worship leaders who couldn't sing or strum their way out of a paper bag biblically and the lame or light theology prevalent in much of the most popular worship music today. These kinds of perceptions have comprised my lame excuses for not being more engaged on a worship level personally and publicly.
But, as I think about it, I think these external excuses have just been a smokescreen for my real internal issue…a bad theology of worship. For far too long, I've vastly underestimated the centrality of praise to a Christian's life and a church's services.