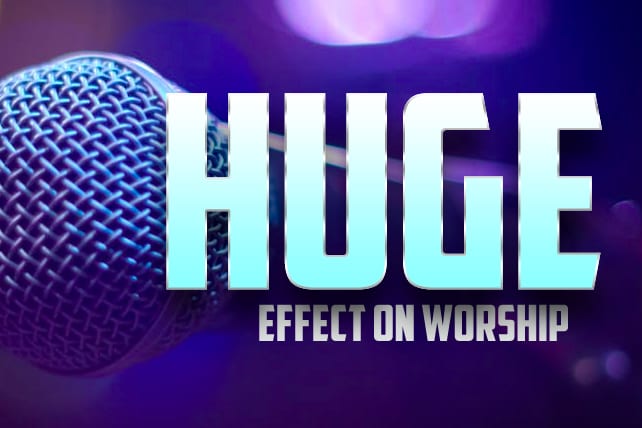 A couple of years ago, I attended a large, super savvy ministry conference with musical worship led by some of the most influential worship leaders of our day. The quality of production for the conference was top notch. But when it came time to participate in corporate worship, the room in which we gathered was so dark that one could scarcely see anything. I remember one moment at which I was particularly moved by the heartfelt singing that reverberated through the sea of people all around me, but as I looked around me to see others lifting up their sung-praise to the Lord, all I saw was pitch darkness. Were it not for the sound of voices, I would have felt totally alone in the room.
This practice is common among churches today. Corporate worship often takes place in a dark room. When the music gets going, the stage lights come up and the house lights go on black-out mode. But, please permit me to ask, What does this communicate to the congregation? What exactly are we saying about the nature of corporate worship when create environments in which we can't even see other worshipers? Do blacked out house lights imply that Christian worship is a privatized encounter—just me and Jesus? And if so, could it be that this practice could perpetuate a consumeristic attitude about attending church?
A Horizontal Ministry
Scripture teaches that corporate worship is a ministry with an extremely important, yet commonly under-emphasized, horizontal component; meaning that going to church isn't just an encounter between me and God, but also an encounter with the assembled people of his covenant. Without diminishing the highly important "me-and-God" dimension of the worship experience, I'd like to accentuate the others-oriented nature of the gathering in order that we might faithfully apply it to the stewardship of lighting among our congregations today.
When considering the concept of worship from a biblical standpoint, we must understand that it can never be divorced from the concept of edification. Edification (or the "building up" of others) is a vital component in any worship gathering. Just consider what Paul says in 1 Corinthians 14:12: "Strive to excel in building up the church." And again in verse 26: "Let all things be done for building up." The apostle is speaking here to the difficulties among the Corinthian church pertaining to their practices of corporate worship. He was admonishing them to adopt an others-oriented approach to their gatherings rather than the self-indulgent practices they had so carelessly and carnally assumed. In Paul's mind, corporate worship should always serve the greater good of the congregation.
Let's consider some other New Testament teachings about corporate worship from Paul and the other apostles. Here are just a few more passages that deal with the gathering of the church:
"May the God of endurance and encouragement grant you to live in such harmony with one another, in accord with Christ Jesus, that together you may with one voice glorify the God and Father of our Lord Jesus Christ. Therefore welcome one another as Christ has welcomed you, for the glory of God." (Romans 15:5-7)
"… speaking the truth in love, we are to grow up in every way into him who is the head, into Christ, from whom the whole body, joined and held together by every joint with which it is equipped, when each part is working properly, makes the body grow so that it builds itself up in love." (Ephesians 4:15-16)
"… be filled with the Spirit, addressing one another in psalms and hymns and spiritual songs, singing and making melody to the Lord with your heart, giving thanks always and for everything to God the Father in the name of our Lord Jesus Christ, submitting to one another out of reverence for Christ." (Ephesians 5:18-21)
"Let the word of Christ dwell in you richly, teaching and admonishing one another in all wisdom, singing psalms and hymns and spiritual songs, with thankfulness in your hearts to God." (Colossians 3:16)
"And let us consider how to stir up one another to love and good works, not neglecting to meet together, as is the habit of some, but encouraging one another, and all the more as you see the Day drawing near." (Hebrews 10:24-25)
Hopefully you're seeing the common theme woven throughout the New Testament's theology of corporate worship; that it is an extremely others-oriented enterprise. As our attention is being captivated by the glory of the triune God, we are also being given a Gospel-generated incentive to consider what the highest good of those around us might be. Therefore, when we gather for worship on the Lord's Day, we must simultaneously gather to edify the church in the Gospel of Christ by the power of the Spirit. Apart from a robustly biblical view of edification, the true nature of corporate worship as taught by the apostles is in danger of being obstructed and obscured.
Re-Thinking Our Practices
When we grasp this vital component of Christian worship, the Gospel begins to motivate us to adopt practices that facilitate greater edification among the Body of Christ, which includes our utilization of both stage and house lighting. My purpose in writing this isn't to tell you what I think you should do with your lighting, but rather to consider what God would have you do with it based on what he has revealed about the nature of corporate worship in his inspired Word.
So, far from harping about some list of guidelines to follow for more careful use of lighting, this is a clarion call to think biblically about the stewardship of your lighting resources. As you go to the Word, allow it to re-frame your line of questioning about ministry practices to be less about having a "cool factor" and more about deeper faithfulness to the things of God. Ask yourself, Does a pitch black room communicate the others-oriented nature of corporate worship? Does worshiping God in the dark isolate people from those whom they have a biblical mandate to edify? Does the stewardship of our lighting resources reflect God's purposes for corporate worship?
These are difficult questions to wrestle with and, from context to context, the answers aren't always as obvious as we'd like. But as you consider such questions and their ramifications, appeal to the Scriptures and immerse yourself in the wisdom of God. Drink deeply of his Word and think biblically about your practices of corporate worship. Ask leaders from other churches for their input. Have ongoing dialogue with your lead pastor. If you will do the hard work of humbling yourself before the Lord and submitting your ministry to his wisdom, he will form you to be a leader who honors King Jesus and edifies the church he purchased by his blood.
 This article originally appeared here.