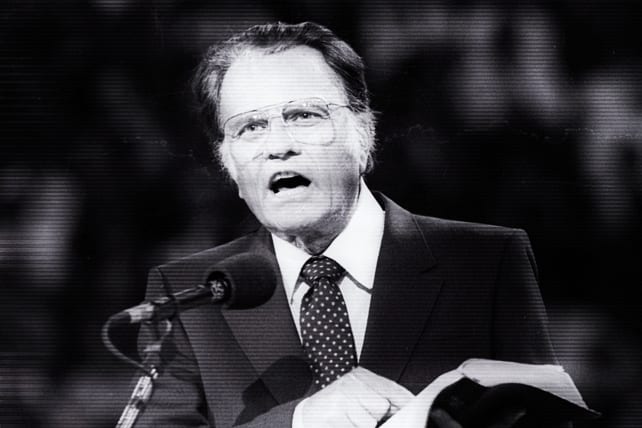 Billy Graham died today. It's hard to say what exactly we've lost with this death. For the next several weeks you'll have the opportunity to read or hear countless opinions, tributes, critiques and remembrances of a man who was an undeniable giant among evangelists.
We talk a lot about worship music here at My Song In The Night so it's fitting to reflect on the place of music in Billy Graham's ministry. (Here's a fun tidbit: The first time Graham's long-time worship leader George Beverly Shea sang for him was on Graham's Chicago radio program called Songs In The Night, in 1944 on WCFL.) Through Graham's campaigns and media programs, gospel hymns such as "Just as I Am" and "How Great Thou Art" became some of the most well-known and beloved songs in Christian hymnody and Western popular music.
But one of the most interesting stories I've heard about Billy Graham and music comes from Cliff Barrows, the long-time Music Director of the Billy Graham Evangelistic Association. Barrows told of a campaign in England where Graham decided to put "Just as I Am" on hiatus and conduct alter calls in silence, due to critical newspaper reporters who wrote that people were coming forward simply because of the emotion in the song.
But of course music would continue to be a fixture of Graham's services for decades. I only saw Billy Graham in person once, with nearly 60,000 others on June 24, 2001, at the closing night of his last Louisville Crusade. The artists who sang that night tell you everything you need to know about Graham's music strategy and his open-handedness on the issue of stylistic preferences: southern gospel quartet legend the Gaither Vocal Band and CCM southern rockers Third Day.
The fact that those 60,000 ate up every measure of every song from both artists says something about the allure of music in general, or the aura of Billy Graham, or the convicting power of the Holy Spirit. Maybe each of those things.
Graham gave a platform to many African American Gospel singers too, even in the mid-20th century when racism was accepted by large segments of society and codified by the laws of various states.
After the explosion of the Contemporary Christian Music (CCM) movement and industry in the 1970s and '80s, Graham began featuring CCM artists in his crusades, alongside Shea, Barrows, Gaither and other long-time music ministers. Rock, rap, pop, and even occasional country & bluegrass artists like Ricky Skaggs sang for Graham. While typically just one or two bands would play during Graham's major nightly service, the other artists would perform at various daytime Crusade events.
We can look at the kind of musical plurality that Billy Graham encouraged in one of two ways:
This "smorgasbord" of musical styles at different events reflected and aided the consumer culture in the modern American church, where we pick and choose between "contemporary" or "traditional" based on our preferences.
Having diverse artists on the main stage requires us to lay aside our preferences and realize that true worship isn't about singing in your favorite musical genre.
As with many other aspects of Billy Graham's ministry, scholars, theologians, arm chair quarterbacks and the press may debate these points for a long time. The one thing we see clearly is that the most far-reaching evangelist of the 20th century understood the power and appeal of music, and utilized it fully.
On a personal note, Kristen and I feel sadness and an inevitable sense of loss at the death of Billy Graham, a man who labored so hard in the Lord's vineyard, for so long. But we celebrate the truth that this aged, tired soldier of the cross is finally home, free from the constraints of mortality. Can you imagine how Billy Graham must feel right now, and how wonderful to have heard his Lord and Savior say:
"Welcome home"
This article originally appeared here.