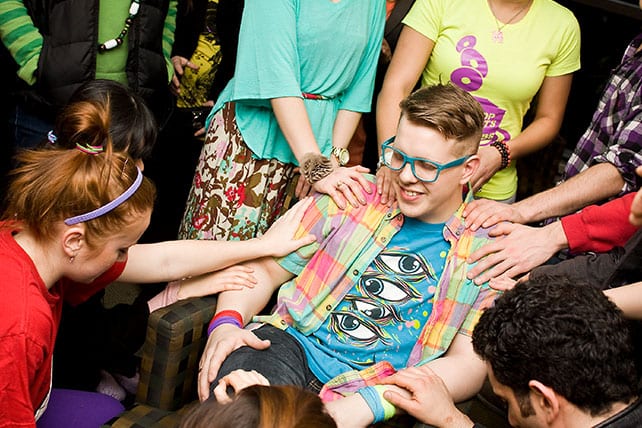 For any Christian program aimed at educating young people, prayer is an important topic. Kids need to hear that God listens to and answers all their prayers—and that they can intercede for anyone about anything at any time. That's why we've collected several helpful youth lessons on prayer.
Use these teaching plans during a regular youth group meeting, at youth Sunday school classes or on a youth ministry retreat. The youth lessons on prayer will help young disciples of Jesus better understand this powerful gift of spiritual communication. They'll discover that prayer is more than just asking God for things; instead, prayer involves praising and thanking God, as well as confessing our sins and seeking forgiveness.
Through all these youth lessons on prayer, kids will explore various ways to make prayer a regular habit in their daily lives.
Check out these 5 great youth lessons on prayer:
This Bible lesson engages kids by first showing clips from popular movies. That springboards into biblical discussions about the language of prayer, various components of prayers, and how God uses the gift of prayer to help grow our relationship with him. Then it concludes with youth leaders encouraging teens to pray every day for the next month by focusing on four key words: petition, thanksgiving, requests and peace.
Convey key concepts about prayer in concrete ways. These seven fun object lessons work well with older children as well as preteens. Students will discover connections between prayer and everyday objects such as a cell phone, a bowl of cereal, a bag of rocks and even a PB&J sandwich. Just as Jesus used parables and common items to teach spiritual truths, these youth lessons on prayer will grab kids' attention and have lasting life impact.
Tune in to this YouTube video and watch a children's pastor present a cool object lesson about prayer. To share the Bible lesson with your own kids, all you need is a clear glass (or vase) full of water, foamy shaving cream or hair mousse, and food coloring. Students will see a visual demonstration of how fears and worries can't block our prayers to God (see Psalm 56:3-4). God is always listening, and he's always in charge.
Use this "hands"-on craft to remind students about various things they can pray for. No matter their age, kids (and adults!) will appreciate visual guidance that prompts them to converse with God often. The site also provides a free printable document containing the prayer cards; simply click this link.
Use a simple snack to teach biblical truths in this study. First, you'll explore how a pretzel's shape symbolizes praying hands as well as God's eternal, omnipresent nature. Next, you'll talk about broken pretzels, which can remind us to pray for people who are hurting or struggling. "God can heal broken people," the lesson concludes, pointing to Isaiah 41:10.
What youth lessons on prayer do you recommend? In the comments below, we'd love to hear what has been most effective with your students.