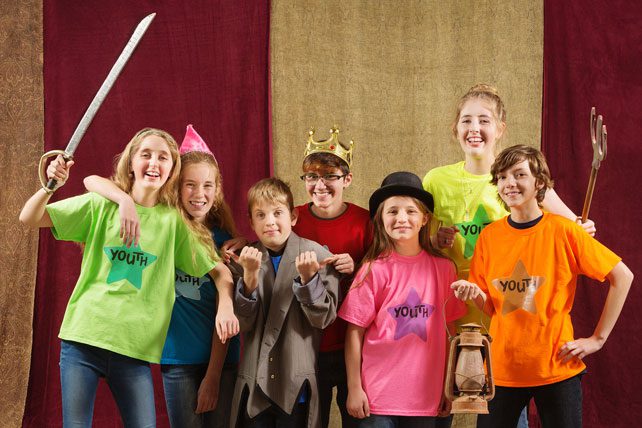 Looking for free Christian skits for youth or children? We've collected loads of church skits for life application or evangelism. Plus, you'll find Christmas skits and Easter Skits for a wide range of ages.
Whether you're searching for a play to do during worship or at a camp or retreat, check out all these Christian skits for youth. (And did we mention? They're free!)
5 FREE Christian Skits for Youth
This 12-to 15-minute skit is about how we get to heaven—and some excuses people use not to accept their free ticket. Easy to do and evangelical in nature, this skit is wonderful for VBS or other church gatherings.
Synopsis: Newman finds himself at a train platform and watches as several people attempt to board the Heavenly Express. Some get on and some do not. Elderberry explains to Newman how Jesus paid the price of each ticket on Calvary.
This Christian skit is written with teens in mind, and younger audiences love it too. Everyone gets the idea that you need a ticket to board a train. What if you didn't have a ticket?
Newman learns from Elderberry that the tickets are priceless, but they are given away freely; that they are for everyone, but not everyone will accept them; and that Jesus paid the price for all our tickets at Calvary. At the end of the skit, Newman accepts Jesus as his Savior and receives his ticket to board the Heavenly Express. All Aboard!
This 12-to 15-minute skit for teens is about sharing the Gospel with others.
Synopsis: When two men meet in passing in a crowded location, the louder of the two is sold on the Gospel by the other, somewhat reluctant, salesman. See it all happen in Birth of a Salesman.
I love this one! The two main actors (Frank and Donny D.) have all the lines, but you can include any number of other children to portray the crowd around them. These actors may walk by, jostle around, or even say funny things in passing.
In this church skit for youth, Frank, the true "salesman," is reserved and somewhat reluctant to talk about what he sells. But when Donny D., the stereotypical loud salesman, hears about the free offer of eternal life and forgiveness, he just can't pass up such a great deal!
Christian skits for youth are a powerful way to get kids thinking about sharing the Gospel. "Birth of a Salesman" will turn everyone into better "salesmen" of the Good News.
This 5- to 10-minute skit shows God's faithfulness in the everyday life of a kidmin director. Consider using it for Sunday School Teacher Appreciation Day at your church. It's a great tribute to the way  church workers go about dealing with day-to-day difficulties that arise in ministry.
Synopsis: Lisa is your typical children's ministry staff person. She is having a typical day, except things aren't going well. One disappointing thing after another happens. Finally, when alone, Lisa prays and asks God to help encourage her… just a little… to help her get through the day.
Suddenly everything turns around. People start volunteering to help, parents call to encourage, and Lisa finds out that a letter she received at the beginning of the skit holds a note from a child who has just accepted Christ as her Savior. The pastor enters to sum up the spiritual realities, and everyone goes out for coffee. Just your typical day in the life of a superhero… or in this case, of a children's ministry staff person.