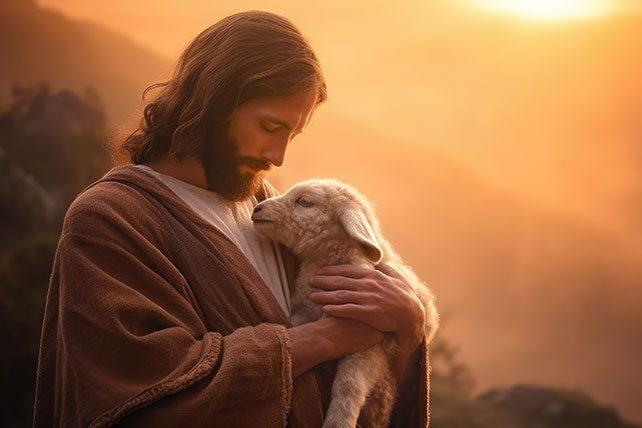 What characteristics of Jesus can his followers try to…follow? Christians and non-Christians alike usually agree that Jesus is the best role model. From His faith, perseverance, generosity, and even His intelligence, Jesus displayed the best qualities that mankind can possess.
The Bible teaches everyone to become more like Jesus each and every day. Although we are sinful and He was not, we can keep growing in our Christian walk. So it's helpful to learn about some characteristics of Jesus. The following list features 10 character traits of Jesus that everyone should try to emulate.
10 Characteristics of Jesus That Christians Can Practice
1. Compassionate
Jesus never looked away from people. He always looked on them and had compassion (Matthew 9:36). Whenever people were nearby, Jesus understood their real needs and worked to address them. For some, physical healing was necessary; for others, the root issue was spiritual. But in all cases, Jesus took the time to actually notice that people were hurting. And His compassion drove Him to help them.
2. Servant
Without a doubt, Jesus was the ultimate servant. Although people praised Him as a great teacher and followed Him, Jesus taught servanthood by modeling it. In Mark 10:45, Jesus says, "The Son of Man came not to be served but to serve." Despite having the authority to get anything He wanted and to have people praise and pamper him, Jesus did the exact opposite. He lowered himself and served others.
3. Loving
Obviously, Jesus had a love for others. If He didn't, He wouldn't be compassionate or a servant. Jesus said there is no greater love than to die for one of your friends (John 15:13). And He did just that. If anyone doubts Jesus' love, all they have to do is look at the cross and see the agony Jesus bore for their sake. He experienced that horrible death so salvation is available for everyone. That, very clearly, is true love at its finest.
4. Forgiving
One of the most startling things in Scripture is in Luke 23:34. While on the cross, Jesus proclaims, "Father, forgive them, for they know not what they do." Even while bleeding and experiencing pain, Jesus had His heart set on forgiveness—even forgiving those who put Him there in the first place!
This is definitely contrary to the everyday mantra of looking out for number one and obtaining personal justice. Jesus was by no means concerned for His own life. All He wanted was to provide a way for forgiveness.
5. Committed
Jesus had no lack of commitment whatsoever. He was always fully in the moment and fully committed to His goals. Despite praying fervently in the garden of Gethsemane to avoid having to bear the cross and all that physical torture, He knew it was the only way to pay for everyone's sins. Sso He stayed completely committed to His goal. Certainly many obstacles occurred during Jesus' ministry, but He stayed on track and finished strong.