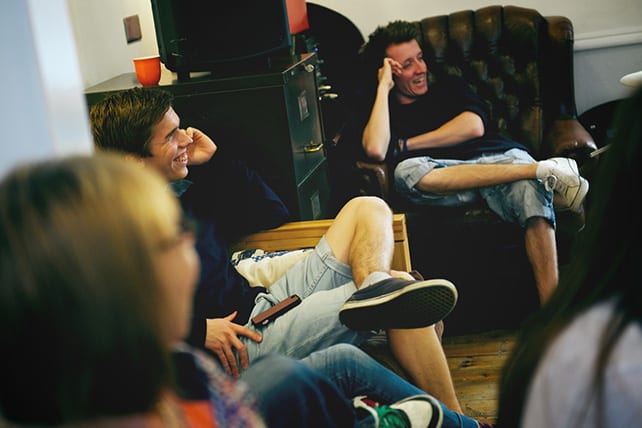 Do you need easy, quick Christmas games to play with teens? If your "season to be jolly" has turned into "Oh golly!" then keep reading.
For youth leaders trying to put together a Christmas event or party, help is here. I keep a folder (a real one, not just on a computer) packed with quick Christmas games. I've used these with great success for three decades with my youth group.
I've selected four of my favorite quick Christmas games for teens. They're guaranteed to add that extra sparkle to your youth fellowship or get-together.
4 Quick Christmas Games for Teens
1. Christmas Match Game
Purchase many different types of inexpensive Christmas wrapping paper. Cut out squares from the wrapping paper based on your group's size. Make sure you have two squares that match, but make all the others different. Fold each square and place inside a separate plain envelope. Let each student pick an envelope. Then say, "The first two people who find matching squares will win a prize."
If your group is larger, you can have more than one set of matching squares. Tell kids to start. Then award the prize to the matching team.
An alternate idea is to have one or two matches for every square. Then give out a prize to the first two people who match their squares. Another twist is to play this game in the dark. Let students use a flashlight or the light from their phones to find matching squares.
2. Christmas Carol Song Game
Write "We Wish You a Merry Christmas" on one 3×5 card and "Joy to the World" on another. Next write the following nine song titles on 3×5 cards, one title per card:
Silver Bells
God Rest Ye Merry Gentlemen
We Three Kings
It Came Upon a Midnight Clear
White Christmas
Rudolph the Red-Nosed Reindeer
Oh Holy Night
Do You Hear What I Hear?
Repeat the process until you have enough cards for every group member. Just make sure only one card says "We Wish You a Merry Christmas" and one says "Joy to the World."
Next, lead the youth group in a time of singing Christmas carols. Say, "If we sing the song on your card, stand up and you'll win a prize." Sing songs in the following order:
The First Noel, Jingle Bells, O Little Town of Bethlehem, Deck the Halls, Joy to the World, Hark the Herald Angels Sing, Away in a Manger, Silent Night and We Wish You a Merry Christmas.
You should have one winner after the fifth song and one after the last song.