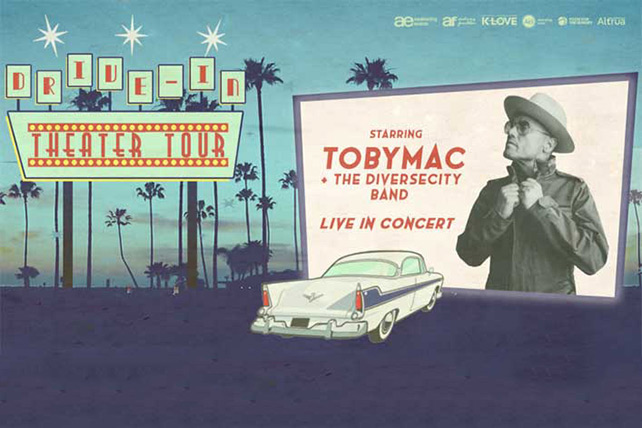 On May 21, Toby McKeehan, who is more widely known as TobyMac, announced a twelve show multi-city Drive-In Theater Tour, that will start June 22nd in South Carolina and end in Missouri on July 12th. This tour will take place at drive-in theaters to assure that social distancing measures stay in place.
The live show will feature TobyMac and the Diversity City Band. Tickets are per car load (max of 6 people due to social distancing measures) and they start at $175 for gold parking, $100 for general admission parking, and $75 for general admission screen 2 parking (which doesn't include a live stage). The sound will be just like seeing an outdoor live concert, but will also be broadcast on FM radio (just like current drive-in theaters do). People will be permitted to sit outside of cars with the designated parking spot to watch the show.
On March 13th, TobyMac had posted on Instagram that he and the Diverse City Band had to postpone their remaining ten shows because of the COVID-19 pandemic. This was the second time in less than a year that TobyMac had to reschedule The Hits Deep Tour. Last October, he had to postpone his tour because of the unexpected passing of his oldest son Truett.
TobyMac has been one of the most successful Christian artists for over the past 30 years. Whether it was with Michael Tait and Kevin Max of DC Talk or with his solo career with the Diverse City Band, TobyMac has continued to take the gospel wherever the Lord gives him an opportunity to play.
The Coronavirus put a complete halt to all live concerts since mid-March. Most musicians make the majority of their income to support their families and careers from their tours. The tours provide not only income through the ticket sales, but also from sold merchandise at the individual shows. The summer is a time when a lot bands take brief a hiatus from current tours to play festivals and prepare to release their fall albums and begin touring, but the current pandemic has put many musicians in positions they have never had navigate, let alone prepare for.
Go support TobyMac and the Diverse City Band and experience a once in a lifetime concert experience during this unpredictable year we call 2020.
Tour dates for the Drive-In Theater Tour can be found here.