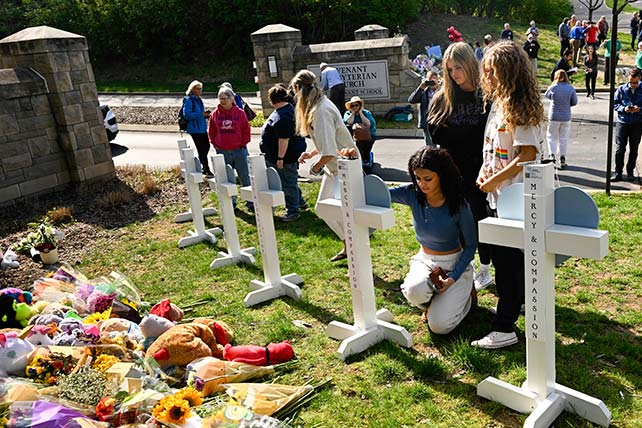 As a youth leader, teacher, or parent it can be difficult to know how to help our children and teenagers process something as tragic as a mass shooting, such as the one that happened this week at The Covenant School in Nashville, Tennessee. Six people—three children and three adults—were killed, as well as the perpetrator. But when traumatic events happen, it provides an opportunity to speak into young lives in a deep and meaningful way.
It's important to take time to help young people sort through their thoughts and feelings about tragic events. Whenever news of a school shooting spreads, our young people are impacted. Innocence ebbs away, and students—many who already struggle with anxiety—can spiral into confusion, fear, and even depression. Or, on the flip side but perhaps nearly as worrying, they can become numb and hardened to reports of evil and death.
The CDC recently reported that 57% of teenage girls in the U.S. feel "persistently sad or hopeless." Around 30% of girls admit they've seriously considered taking their own lives.
As the father of a teenage girl, this breaks my heart!
RELATED: Pastor's 9-Year-Old Daughter Was One of the Victims in Covenant School Shooting
Every report of every school shooting adds fuel to the fire and chips away at young people's hopes. It steals a little more innocence. It adds a little more fear.
It was a school shooting that catapulted me out of being the preaching pastor of a church into leading Dare 2 Share, a ministry focused on reaching teenagers, full-time.
On April 20, 1999, the Columbine High School massacre took place in Littleton, Colorado, a suburb of my hometown of Denver. The news hit me hard, because not only did I know a lot of the students who attended Columbine at the time, but my wife was (and still is) a public school teacher in the same school district.
I'll never forget heading down to Clement Park, right next to Columbine High School, to reach out to the teenagers and parents who had gathered there to pray and to mourn. Amidst the massive amount of reporters, I did my best to speak into the lives of terrified and traumatized teenagers who had gathered there.
Hearing the stories of the survivors and watching their tears impacted me to the point that I eventually resigned from the church to lead Dare 2 Share full-time.
It's been almost 24 years since the Columbine shooting. Sadly, school shootings have increased, not decreased, over the last few decades. During this time, I've spoken to hundreds upon hundreds of thousands of teenagers at our Dare 2 Share gatherings and other events. I've had the privilege to personally connect with students, parents, teachers, youth pastors, and school administrators who've been affected by school shootings and other mass shootings in one way or another. Even my own son had a shooting take place on the grounds of his school campus 15 years ago.