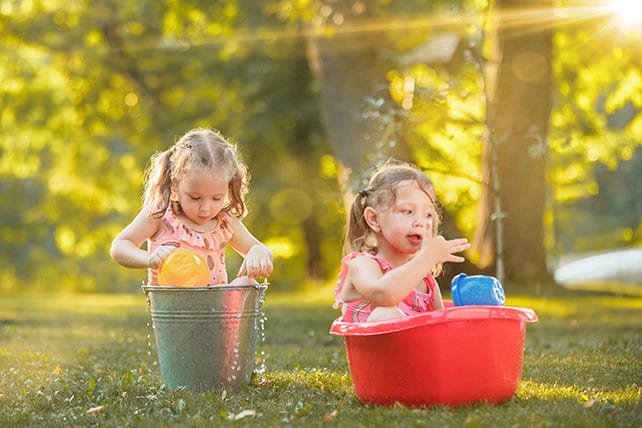 Summertime brings plenty of heat with it, which means we need to keep our little ones cool. What better way to have devotions for toddlers than through fun water play!
Babies and toddlers alike will have a blast splashing around while learning about the Bible and its many well-loved account. Use a kiddie pool or sand pails, and be sure to supervise children closely at all times.
Try these 6 devotions for toddlers that incorporate water play and Scripture messages:
God made all the water that fills the earth! Fill a tub with water and explore this gift from God. (For fun, add a few ice cubes and talk about how water changes.) Talk about how people all need lots of water to drink, and plants need water to grow.
In a kiddie pool, set out some toy boats (or make some out of milk jugs). Then have toddlers load toy animals onto the ark and sail them around. Talk about how God made all the animals, watches out for them, and wants us to take care of them.
Encourage toddlers to practice their pouring skills as they pour water for 10 camels, just as Rebekah did (see Genesis 24:17-19).
As a baby, Moses floated in a basket on the Nile River. Transform some science experiments into devotions for toddlers by seeing which objects sink and which items float. Try using leaves and sticks, small rocks, and various toys.
When David faced a "giant" challenge, he chose five smooth stones. Go on a "hunt" together to find some rocks that look pretty or have interesting shapes. Then have toddlers wash their rocks in a bin.
Jonah was swallowed by a whale (or big fish) when he didn't listen to God. Let toddlers play in the water with some fish toys or pool floats.
A lot of the people who followed Jesus had previously worked as fishermen. Place toy fish in a tub or pail of water, and then have toddlers try to catch them with a net or mesh strainer.
In a large bin, make a sand section and a water section. Add a few rocks, and let young children touch and explore all the elements.
What other water play ideas do you use for devotions with toddlers? Please share them in the comments below!
This article originally appeared here.