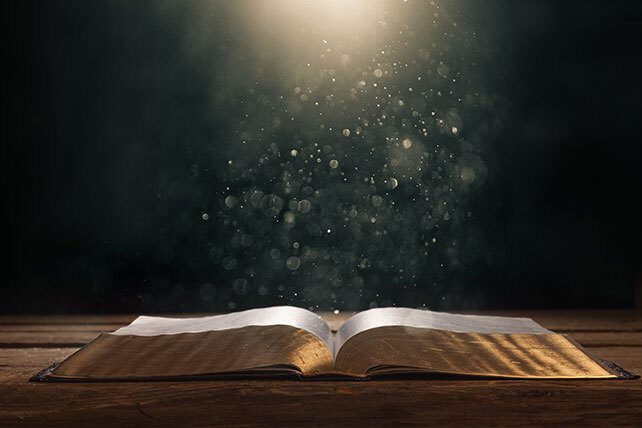 At the Little League meet up the coach calls over little Charlie, bends down, and looks him straight in the eyes.
"Look, Charlie, you know the principles of good sportsmanship, correct? You know the Little League doesn't allow temper tantrums, shouting at the umpire, or abusive language?"
"Yes sir, I understand."
"Good, Charlie. Now could you go and explain that to your father?"
We chuckle at that because it's not only funny but often true.
The reality is that every day in both big and small ways your child is reading a Bible. But this is not a Bible with pages and ink. It's not even a Bible that you always know that they are reading. But they're reading it, just as sure as you are reading this right now.
This Bible that I'm referring to is the one written with the actions and words (the pages and ink) of your life as a parent.
The Greatest Bible a Child Will Ever Read is Their Parents
Every day, our child is reading either the works of the flesh or the fruit of the spirit in our daily life (Galatians 5).
They are seeing us walk in the flesh or walk in the spirit through our lifestyle and choices.

They are internally matching up our words and beliefs with our actions and attitudes.

They are evaluating whether or not our family's faith is a genuine reality affecting how we live out our lives, or just a religious standard we try to abide by when it's convenient.
Surprisingly, a parent can say all the right words, have all the right rules, and teach all the right things, yet still raise children who end up choosing not to live out their parents' faith. (While it is very easy to raise second-generation hypocrites, it is also possible to get it right and raise kids who personally possess their own faith.)
That's why I often say that "More than your children will become what you say, but they will become who you are."
Proverbs 22:6 reminds us of this when it says to "Train up a child in the way he should go: and when he is old, he will not depart from it."
In other words, as parents, we do the training, and then we also do the trusting. The training is primarily the time while they are still at home. The trusting is the time that follows.
Every day, you are pointing your child's heart in a direction
Remember, it is not your job as a parent to keep your child on the "straight and narrow", but it is your job as a parent to keep their heart pointed in that direction.
No, you're not a perfect parent, nor will you ever be, but you are capable of shaping the heart and future of a human soul. How do I know that? Because God entrusted you with them.
Take some time to consider and meditate upon these verses as they relate to the example of your parenting…
Psalm 127:4 As arrows are in the hand of a mighty man; so are children of the youth. 
Micah 6:8 He hath shewed thee, O man, what is good; and what doth the Lord require of thee, but to do justly, and to love mercy, and to walk humbly with thy God. 
James 4:9-10 Therewith bless we God, even the Father; and therewith curse we men, which are made after the similitude of God. Out of the same mouth proceedeth blessing and cursing. My brethren, these things ought not so to be. 
Matthew 15:8-9 This people draweth nigh unto me with their mouth, and honoureth me with their lips; but their heart is far from me. 
John 13:35 By this shall all men know that ye are my disciples, if ye have love one to another.
Proverbs 23:26 My son, give me thine heart, and let thine eyes observe my ways.
I Corinthians 11:1 Be ye followers of me, even as I also am of Christ.
"The greatest Bible a child will ever read is not the written one in their hands, but the walking one in their house."
May the Bible of our daily lives impress deeply upon the hearts of our children, so that we can say along with the Apostle Paul:
"Ye are our epistle written in our hearts… written not with ink, but with the Spirit of the living God; not in tables of stone, but in fleshly tables of the heart." – 2 Corinthians 3:3
This article on the greatest Bible you child will ever read originally appeared here, and is used by permission.