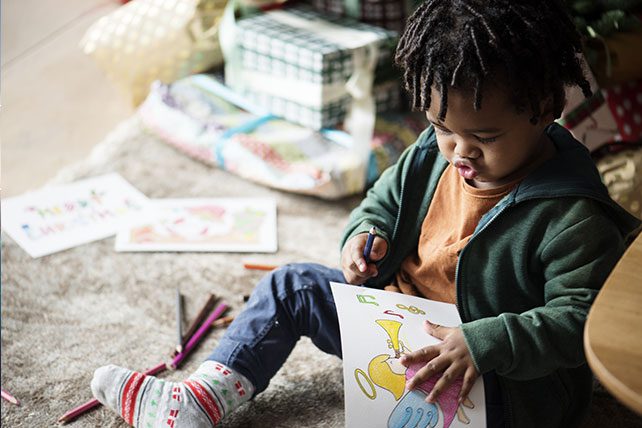 Christmas coloring pages for kids are a seasonal treasure! Christmas worship services and events offer many opportunities to share the good news of Jesus. It's easy to supplement holiday festivities with another holiday touch: free printable Christmas coloring pages for kids.
Preschoolers, grade schoolers, teens, adults, and seniors will enjoy quiet time creating colorful masterpieces. Best of all, many Christmas coloring pages for kids are filled with seasonal Scripture verses (to boost memorization). Others feature Bible stories and symbols.
Many Advent and Christmas coloring pages for kids show Nativity scenes or characters from the New Testament. For example, John the Baptist prepared the way for Jesus. Simeon and Anna met baby Jesus in the temple. And the Magi brought precious gifts for the infant King. Other pages show Christmas trees and winter scenes. Some highlight symbols such as candy canes (shaped as a J for Jesus).
Printable Christmas coloring pages for kids are often available to download as a free PDF. Search by Scripture verse, Bible book, Bible character and more. As an early Christmas gift, we've assembled some favorites below. Use them in Sunday school and children's church, at holiday meals and parties, and in goody bags and baskets.
You also can send or attach these pages in church Christmas greetings. Or include Christmas coloring pages in gifts your congregation distributes throughout the community. (Include art supplies as a bonus!)
Christmas coloring pages for children make lovely decorations throughout church facilities too. Artists will be excited to see their work on display.
Have fun brainstorming more ways to use coloring sheets to wish people a merry Christmas!
10 Free Christmas Coloring Pages for Kids
Younger children will love these free Christmas-themed coloring sheets. They feature large outline-style letters to build early-reading skills.
Check out this lovely set of five Christmas ornaments! Each one showcases a biblical name for Jesus. Families will enjoy coloring these ornaments as part of their at-home Advent devotions.
Some Sunday school classes and families hold a birthday party for Jesus every December. Use these kid-friendly Christmas coloring pages to celebrate the birth of our newborn King.
These cute coloring sheets focus on God's love and care for children. We especially like the "Jesus loves me" page, with candy canes. Another favorite is the "God made me unique" page, with snowflakes and Psalm 139:14.
This website is filled with creative options. Check out the intricate Christmas coloring pages that are perfect for adults. Or look at the material for toddlers and preschoolers, including Nativity-themed alphabet sheets.