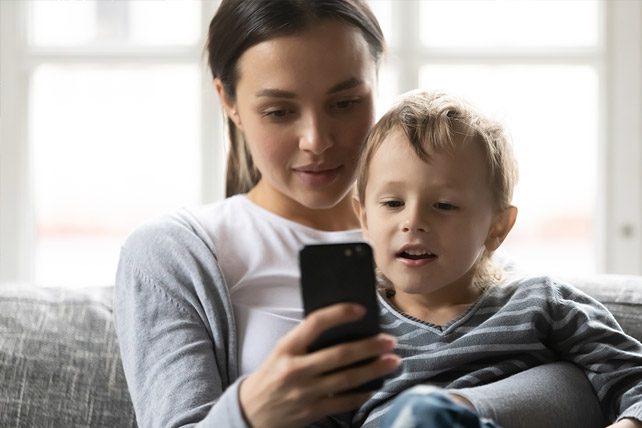 We live in a digital, social media driven culture. Children's ministries have a great opportunity to incorporate social media into their ministry strategy. With that basic understanding, let's explore some ways we can use social media to connect with parents.
(Obviously you need to obtain parental permission to post pictures and information about children online.)
1. Use Instagram to share pictures of events, church activities, announcements, etc. 
2.  Create a private Facebook group for parents.
Studies show that 95% of Millennial moms are on Facebook.
3. Create a blog for your ministry. 
Post articles about parenting, relevant topics, insights into the ages and phases children go through, etc.
4. Use social media to get parents' feedback about the ministry.
5. Twitter is another social media app that many parents use.  
You can post short updates, photos, videos, share news and more. Twitter can be used for times when you want to connect with a short message (up to 280 characters).
6. Text messages. 
Did you know that 98% of text messages get read? Text messages are a great way to let parents know what their child learned at church and provide follow-up questions for home.
7. Pinterest.  
This app allows you to pin images from your blog or other websites. You can create "boards" that are visually appealing and easy to use. Create boards that you think would interest the parents in your ministry. Make parents aware of your Pinterest page and how they can set up an account to access it.
8. TikTok is a creative way to connect with parents through short video content. 
Over 1.5 billion people use this app. This puts it ahead of Facebook, Instagram and YouTube. You can post short video updates, announcements, parenting tips, shout outs, etc.
9. YouTube. 
YouTube is a great way to share longer forms of video. You can share updates, parenting videos, online Bible content for children, lesson follow-up and more.
10. Respond to questions that come through social media.
If you are going to use social media to connect with parents, it is important to respond to comments, questions or thoughts that people post. Respond in a timely manner (24 hours or less). Be kind and courteous in your responses.
When a conversation comes out of a social media post, that is the time to engage and be there for parents and families.
This article originally appeared here and is used by permission.