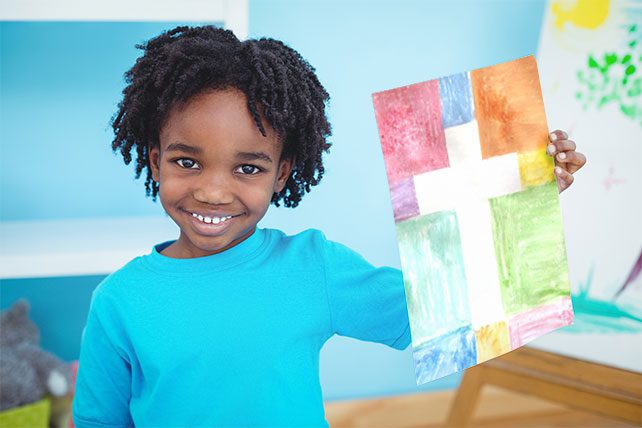 Cross craft ideas are extremely versatile. Teachers and leaders can use them in Sunday school classes, for VBS, and at children's ministry events. Cross crafts work at any time of year, not just at Easter!
The cross is key to our Christian faith. So it's one of the first symbols a child learns about and associates with Jesus. Emphasize that Jesus died on the cross willingly, in our place. By dying on the cross, our Savior wiped away all our sins. As John 3:16 promises, the result is that by believing in Jesus, we can live with him in heaven forever.
Share these cross craft ideas with parents to use at home because they're great for family devotions. And the activities work for a variety of ages, from toddlers and preschoolers to older elementary kids.
16 Cross Craft Ideas for Kids
Use and adapt these creative ideas with children in your church and home.
First up is this easy cross craft that involves painting with chalk and water.
Kids will love making this stained-glass cross. The stunning project will remind kids about the message of the cross.
Check out this "tape-resist" project. It results in a lovely cross that families will want to display.
Older elementary students will enjoy this cross craft. They can keep the hanging somewhere handy or give it to a friend.
Although these are labeled as Easter crafts, the 12 activities will work for any season.
This cross craft comes with an easy-to-use template.
Creativity abounds in most cross craft ideas. Kids will have a blast painting with plastic forks. (Yes, forks!)
Bright, sparkly cross collages are wonderful reminders of God's love. Plus, they serve as vibrant decorations.