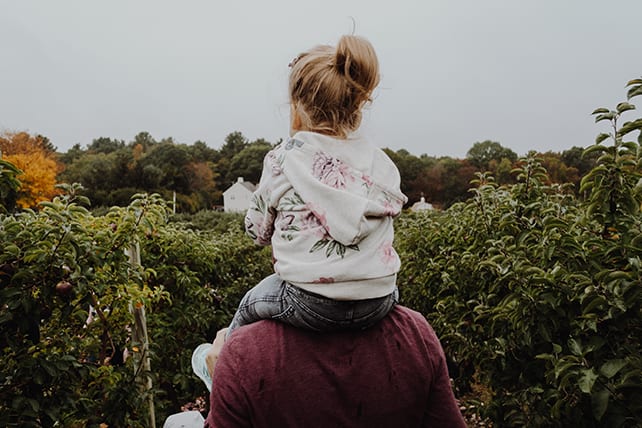 As the father of three daughters and one son, here's my best advice for dads and daughters for no regrets.
Deuteronomy 6:4-9
"Hear, O Israel: The Lord our God, the Lord is one. Love the Lord your God with all your heart and with all your soul and with all your strength. These commandments that I give you today are to be on your hearts. Impress them on your children. Talk about them when you sit at home and when you walk along the road, when you lie down and when you get up. Tie them as symbols on your hands and bind them on your foreheads. Write them on the doorframes of your houses and on your gates."
Have you ever heard the saying "God always knows what we need"? Well it is true, and God knew that I needed daughters. He blessed my wife and me with three beautiful girls. God knew how much I needed to mature in the areas of selflessness, compassion, sensitivity and love. Yes, marriage has taught me all of those things, but after having daughters I can honestly say God has used and is currently using them to grow me in those areas at a much deeper level.
I remember holding my oldest daughter in the hospital delivery room just like it was yesterday, that was over 10 years ago. I say that to remind myself that life slows down for no one. Every second I am with them counts for something and it is measured by an eternal purpose. Wow, that is heavy! I mean that literally, when I say that out loud I realize it is something I can't carry alone. Thank God His plan is always better than mine, and that His ways are always better than mine.
I am blessed to have a strong community of Christ-following brothers. The other day I sent out a text to a handful of them and asked them a question. "If you could or would change anything about fathering your daughter, what would it be?" Some of them currently have daughters still in their household and some of them are grandfathers. I want to share a few of their responses:
• "I would praise them more, especially telling them more often how beautiful they are to me."
• "I would love, honor and respect their mother in a better way in front of my daughters. I want them to see a better example of what it means for a husband to love his wife. I have often fallen short in that area in front of my daughters. I would set aside certain ministry activities that have taken me away from extra time with my daughters. I don't want my girls to grow up being bitter toward the church that took their daddy away so much."
• "If I could go back and correct anything with raising my daughters, I would do two things better: be more consistently intentional with them in terms of the content of our conversations, and I would, earlier on, measure everything I saw in them and for them against the kingdom of God. In other words, in teaching them to measure success early in their lives, I could have had a more pure grid of God's kingdom, and not man's at all."
• "I would spend more time with them as they were growing up, and not so much time working."
• "I wish I could have figured out a way that when I talked to them about their relationships with God that I didn't come across like I was giving a lecture."
• "I could and should be more of a spiritual leader."
• "The one change I am making is by spending more relaxed one-on-one time with my daughters. Meeting them on their turf, and doing activities they enjoy. My wife does this well, but I've got plenty of room to grow here."
• "Although time is flying by, thankfully I still have the chance to improve! I think one thing is more one-on-one time. Dad-daughter dates to foster talks. Also, or as part of that, to have more meaningful conversation."
• "I wish I would have invested more quality time with them and did what they wanted to do as opposed to being selfish and doing what I wanted to do…watching sports."
• "I would spend more time listening to her rather than talking to her. I would also spend less time looking at my phone when we were together."
• "My daughter was our second child, born 3 1/2 years after our son. If I could go back I would be much more involved in her world. I feel like I missed out on some things that I would love to recapture. By the time she reached HS I was very involved in her life and activities. But I still feel like there was a gap of time that I didn't take advantage of that I should have."
• "I would have been more intentional in my prayers, and more openly shared Christ's message. My Christian life at the time was a Sunday event—"checking" off the boxes. She became an awesome God loving, God fearing Christian in spite of that."
• "I'd be more intentional with undivided time with her. One-on-one—whether it be date nights or devotionals/prayer time—consistent instead of occasional. We did it some but not enough. Then time is gone before you know it!"
• "This question is a tough one because it's basically an acknowledgment of weakness…in which case I have so many. But if I have to pick one, I would say I would want more intentional one-on-one time with my daughters. I want to work harder on getting that key time with them that instills in them a deeper understanding of the love I have for them. I think it also allows the relational bond to grow much deeper, which in turn, will allow us to have a much better foundation when the tough times come in the future (teenage years). So, if I could change one thing, it would be intentional one-on-one time."
• "I would tell her many more times how much I love her, how much she has blessed my life and how I'm trying to show her how she should be treated in life by a man."
• "I would spend more time intentionally pointing them to Christ and strengthening their faith."
• "I would show more repentance. Making sure I would never be too proud to ever ask for forgiveness of my wife in front of my daughters. And always display how much their daddy needs Jesus."
I don't think I have to tell anyone that what our children see is what they will imitate—Dads who are we imitating?
After reading all the responses I received back from the question I asked, it reminded me of what Paul says in 1 Corinthians 4:14-16: "I do not write these things to make you ashamed, but to admonish you as my beloved children. For though you have countless guides in Christ, you do not have many fathers. For I became your father in Christ Jesus through the gospel. I urge you, then, be imitators of me." And he mentions it again in 11:1: "Be imitators of me, as I am of Christ" (Heb.13:7, Phil.3:17, 1Thess.1:6, Phil.4:9, 2Thess.3:9).
My prayer to my Father in heaven is that my fleshly desires be put to death so that He can live through me with every breath he gives me so that my daughters will see the one true Jesus they will never want to leave. That they will see a savior that died on a cross and saved their earthly daddy, and that they'd have a heart that longs to see their Heavenly Father so much they can't wait to worship Him face to face.
I can't do this! We can't do this—without Him! Brothers, I am so blessed to have a community, His church, that He has given us to help us. I encourage you to never push it away. THANK God for it, embrace it and use it. Be in community with each other, communicate your struggles among your brothers in Christ and pray for each other—our daughters' hearts are counting on it.
I hope this has been an encouragement to you. What would you change?
Dads, as long as God gives us breath we are never out of time to steward the treasures that are our daughters He has loaned to us. Let's be imitators of our King!