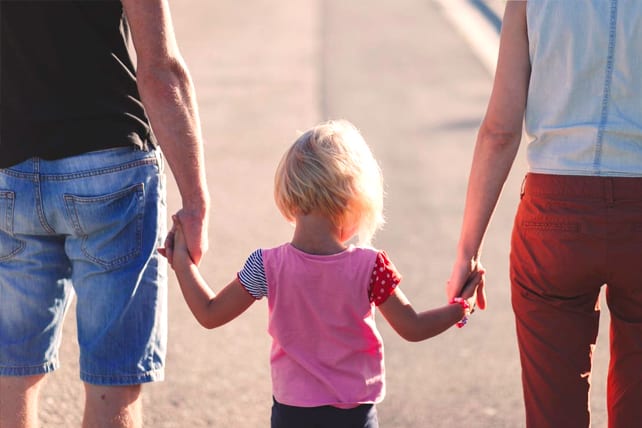 I love a good find on Pinterest…especially when it has to do with great resources for the families at church.
I came across an idea called 
Take Out Church
. It's a resource created by two pastors in North Carolina. The concept behind it is for churches to give it to
families for the summer
…to take church with them when they go on vacation and are away for the summer. When I saw this I knew I had to do this with the families at our church. I took their ideas and also added some of my own. Here's all that is included in my Take Out Church resource. (Check out my 
YouTube video
 where I show you all the items in the box).
I used a pizza box to hold all the items. I ordered these pizza boxes on Amazon.
Here are some pictures of the box and its contents.

I typed up some instructions (some of it was used from the original Take Out Church), but I also added some of my own wording.
I included several different areas for them to practice and live out their faith:
This is a great list of things you can do with your family. (I found this resource from The Marvelous Moms Club blog.)
2. Conversation Starters With Kids
Need to get your family talking? Here is a great list of questions to strike up conversations with your kids. (I found this resource from the Realistic Mama blog).
Praise God
3. VBS CD 
Each family received a free VBS CD inside their box (from the VBS that we are doing this summer). What a great way for families to praise God together over the summer!
Prayer
 4. M & M Prayers
In the original Take Out Church they used a Skittles Prayer, but I changed it to M & M's (because I love chocolate). I put a pack of milk chocolate M & M's inside the box and also included this M & M Prayer for families to use. Each color represents something different and includes a prayer prompt.
Hear God's Word
 5. Bible Apps for Kids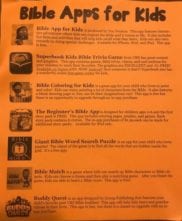 In the original Take Out Church, some of the apps no longer existed so I did my own search and found these cool Bible apps for your children to use. It's a great way for your children to use their technology devices for something other than video games and Netflix.
Included in this resource are 10 Bible verses (found at Moritz Fine Designs). Families can choose to memorize one Bible verse per week. This is a great way for your kids to keep focused on God's Word this summer.
Give Thanks
7. Beach Ball Thanksgiving
Included in the box is a beach ball (which I got from Amazon). Families can write down things that they are thankful for and then use the beach ball over the summer to give thanks to God.
Serve
8. Serve your Neighbor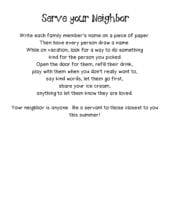 This game is included in the original Take Out Church. It's a fun game for your family to use while you are on vacation. It gives ways for each family member to serve each other.
Witness
9. Rock Painting
Rock painting is a fun activity in our small town. Families paint rocks and hide them around our Square. If you find a rock, then your family gets to keep it. Families can use rock painting to be witnesses for Christ. They can paint Christian symbols, Bible verses or other things to point people toward Jesus.
Remember Jesus
10. Flat Jesus
Remember Flat Stanley? This the same concept. I found this Flat Jesus online. Kids colored him and then I laminated and cut him out and included him in their box. Over the summer the kids will take Flat Jesus with them wherever they go. They will get their parents to snap a picture of them together and post their pictures onto our Children's Ministry Facebook page. I can't wait to see where all Flat Jesus goes!
I am excited to share this summer resource with the families in our church. I hope each of them will use it to live out their faith this summer!
This article originally appeared here.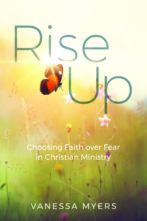 Don't miss Vanessa Myers' new book Rise Up: Choosing Faith Over Fear in Christian Ministry.