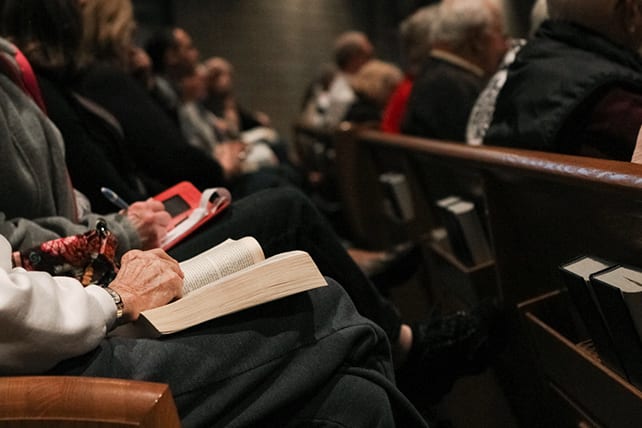 One of the biggest areas of concern right now is the frequency of church attendance for families.
As I talk and interact with children's ministry leaders across they country, they echo this.  A few weeks ago, I met with over 20 children's pastors who serve at some of the largest churches in the country.  Frequency of church attendance was one of the main topics that was discussed.
Church Attendance for Families: How Often They Attend
Families that used to attend 3 out of 4 weeks now attend twice a month.  Families that used to attend twice a month now attend once a month or even less.
A recent study by Barna, gives us valuable insight into families' church attendance patterns and their attitude toward church in general.  Barna identifies two groups.
The "practicing Christians" group numbers 63.5 million and are people who are the most committed to their faith.  This group attends church a minimum of once a month and say their faith is very important to them.
This proclamation is challenging.  When the most committed people are the ones who come at least once a month, we have a lot of work to do.  This confirms our theories that families are attending less often for sure.
Church Attendance for Families: Who Attends More
And yet, there is a core group that attends almost every weekend.  In my opinion, this is the group of people who are serving in weekly roles.  And in many cases, they have developed deep relational connections with the people they serve with and have found their niche.'
The other category is what Barna calls the "churched adults."  This group numbers 124.4 million and attend church at least once in a six month period.  This is the group that we affectionately call the "CEO's."  Christmas and Easter only.  Easter and Christmas are normally a high attendance times for most churches.  On these weekends, everyone shows up at the same time, hence the higher attendance.
Another trend Barna highlights is church hopping.  He says this has become the norm.  27% of practicing Christians church hop.  I believe this is especially true in multi-site churches.  Sometimes people will drive to hear the pastor speaking "live" and other weekends they will attend a campus that has the pastor on video.  Or perhaps they are running late on a Sunday and decide to go to a closer campus rather than the one they usually attend.
Church Attendance for Families: Are They Bored With Church?
Another big question to ask is this.  Are kids and families growing tired of church?  Barna's data shows that 57% of churched adults and 45% of practicing Christians say they know people who are tied of the same old church services.  Many feel that church is becoming irrelevant to their personal lives.
While a large percentage of families say their church experience is positive, 40% of churched adults say they leave disappointed at least half the time.
How else do families view the church?
66% of practicing Christian families say the church has a positive impact in the community.
27% of non-Christian families say the church has no significant impact in the community or even say the church has a negative impact in the community.
10% of all families, no matter their age, race or denomination, believe church is irrelevant.
The percentage of practicing Christian Millennials who agree the church is irrelevant today is the same as non-Christians who hold this view at 25%.
We can't afford to bury our heads in the sand and pretend nothing is wrong.  Yes, many Christian families still enjoy gathering with other believers.  But for Gen Z'ers and Millennials,  many of them say they are "tired" of church as they have known it growing up.
Church Attendance and Families: How to Minister to Today's Families
As we ponder these findings, let's talk about how we can still make a difference in the lives of today's families.
It starts by getting it on our radar.  How can we impact the young parents in our ministry?  We must make impacting young parents a top priority.  There are lots of different ways you can do this.  One of the most effective times I have seen to impact young parents is at Parent & Child Dedication.
Parents' hearts are tender as they prepare to have their child dedicated.  Attach a class that parents go through before they dedicate their children. (I have an entire class resource at this link that hundreds of churches are using and are seeing significant impact on families.)  You can see more at this link.   Make the class 20% about what the meaning of the dedication is and then use the other 80% of the time encouraging parents about raising their kids to love Jesus.  You can cover key areas and topics like…
How to pray with and for your child.
Reading the Bible and devotion books with your child at bedtime.
Making Jesus the center of your family.
Make church a top priority.  We are raising a generation of children who will be Biblically illiterate if they continue to only attend church once a month or even less.  They will grow up not knowing how to defend their faith or even articulate key doctrines found in the Bible.  Think about this – what if a child only attended school 1 week a month?  They would miss so much important teaching, wouldn't they?  They would have a hard time making good grades.   The comparison can be made with how often kids attend church as well.  If they are missing 50-75% of the teaching, they will have a shallow faith that may not stand when tested.
Resist the urge to overly involve your child in sports that will take them away from church on Sunday.  Remind when we don't do this, we confuse our children and send a message that says church is optional and is something you only do at the holidays or if there's nothing else scheduled.
Encourage parents to take the long look.  Decide now what kind of person they want their child to be when they leave home.  What do they want their child to know about God?  What truths from the Bible do they want their child to follow?  What kind of character do they want their child to have?  Lay out a plan to begin teaching and emphasizing those things now.
Help parents see what really matters.  Athletic success is a good thing.  Academic success is another good thing.  Social success.  Financial success.  All of these are good things, but the most important success is spiritual success.  It should the number one goal for parents to have for their children.
Get families involved in serving.  As I mentioned earlier,  families who serve are the people who are at church more often.  Create a culture of serving in your church.  Emphasize it.  Honor it.  Cast vision for it.  Make it a requirement to serve if you are going to join the church.  The more people you can get serving, the better attendance you will have.  In this new paradigm, growth doesn't come from attendance.  It comes from engaging people to serve.  When you make this shift it helps close the back door.
Create environments that have kids dragging their parents to church.  Kids who love coming to church translates into families who faithfully attend church.  In today's culture, many times parents take their cues from their children when it comes to attending church.  On more than one occasion I have heard parents say, "Yeah, I was going to stay home today and just watch the service online, but my son wanted to go to the church…so here we are."  Remember the key to the heart of a parent is their child.  Give kids a great experience at your church and make sure they are saying "yes" to the most asked question by parents – "Did you have fun today?"
Help families get connected to a small group of people who knows them and misses them when they are not present.  For kids, it may be a small group with a caring leader, who sends a child a "miss you" card when they are absent.  A leader who prays for them each week.  Whatever format you use or whatever you call it (small groups, Sunday School, breakout groups, etc.), make sure children are part of a group (to clarify – a group of 6-8 kids – not a group of 20 kids – that's why ratios are so important).  For parents, the same can be said.  They need to be tied to a small group, Sunday School group, life group, home group, etc.  Small groups deepen relationships and people who have close relationships at church will attend more often.
All of these things can help kids and parents attend more frequently.  Of course, one factor I did not touch on was kids whose parents are divorced.  This can often cut their church attendance in half as they are in a different home twice a month and that home may not be go to church as often as the other home.
Think about all the good things that happens in a family when they attend church on a regular basis. It's not about what we want FROM families, it must be about what we want FOR families.  We know the spiritual growth that comes from consistent church attendance.  We know the relationships that can be formed.  We know the blessings that will come with faithful church attendance.  We know it honors God.  It honors His Word as He tells us in Hebrews to "not forsake the gathering together with other believers."
Let's be a cheerleader for the families in our ministries.  Let's share with them the blessings they will receive when they attend faithfully.  Let's make our ministries so irresistible that kids can't wait for the weekend to come so they can attend church.  Let's make our ministries so impacting that families lives are changed.  Let's help families develop a love for God's house.  Let's help families put church at the top of their weekend activities.
When we do these things, we will begin to see a turnaround as families begin to attend more frequently.
Your turn.  How often do families attend your church?  What are some ideas or insight you have to encourage families to be more consistent in their attendance?
This article about church attendance and families originally appeared here.