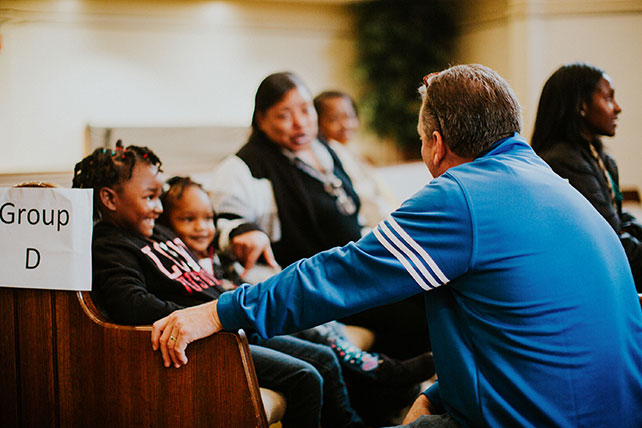 Christian parent, I want you to know that I'm encouraged by the fact that…
You have your children in church… You rock!
You're instilling character and values into your kids… Yes!
And that you're trying to raise your children to become not just good, but godly young people… This matters more than you know!
These things are so very important, and cannot be underestimated.
But…
Is it possible that you are still missing the most critical and basic ingredient? – The one thing that God has called parents to promote and strive to produce in their children above all else? I fear that many Christian families are.
In your home, is there an emphasis on A PERSONAL RELATIONSHIP WITH GOD? Are your children being regularly moved towards personally knowing God and seeking to become more like Jesus?
Are you encouraging your kids to live out their own faith or simply requiring them to follow yours?
Are your children learning to walk in the Spirit and make personal decisions based upon their own relationship with God?
Are your children learning to follow Jesus Christ more than just a list of Christian rules?
Are they growing in their faith and their ability to practically live it out?
Recently, our youth pastor made a very convicting statement in a message when he said this…
"If you were to keep your 'spiritual schedule' (your Sundays, your small group, your spiritual routines, etc.) but you took out your relationship with Christ… what would change, if anything?"
Christian parent, is the foundation of all you do your relationship with Jesus? Or is that just one of the 'things' in the mix? Are we guilty of sometimes doing all of 'the things' that Christians do, believing that those things are what make up our relationship with Jesus?
The reality is that our children will notice if our family is walking with Jesus or if we're just playing Christianity. Because there is a big difference.
If your desire is to help your children develop a personal relationship with Christ, here are 3 important ingredients to remember:
1. Make the Scriptures central to your daily lives
Nothing holds the power of God like the Word of God. Read it together. Discuss it together. Memorize it together. Post it in your home. Pray it over your children.
When your children have important decisions to make, point them to what the Bible says. More than they need your opinions, counsel them directly through the truth of Scripture to guide them into right decisions. Prioritize the Scriptures in your home.
2. Give Christ preeminence in your home
Make much of Jesus in your family. Help your children understand that we are Christ-followers before we are rule-followers. Remind them that everything in our family and in our lives is to point to Jesus.
This is why we pray together. This is why we serve one another. This is why forgive others. This is why we strive to be like Jesus. Because He is our focus. He gets first place. It's all about Him! Regularly remind your children of this.
3. Teach and exemplify a personal walk with God
Children are the great imitators, so give them something great to imitate.
"The greatest guarantee of children who will have a personal relationship with God is for them to be raised by parents who do."
Teach your children by example what it looks like to be a student of the Word, to make decisions based upon Scripture, to walk in the Spirit, and to allow your faith to shape every detail of your life. Because faith is more often caught than it is taught.
Nothing you pass on to your children carries more weight than this.
It's great that you're a Christian parent, BUT it's even greater if you're leading your children into a lifelong, personal relationship with Jesus.
This article originally appeared here.