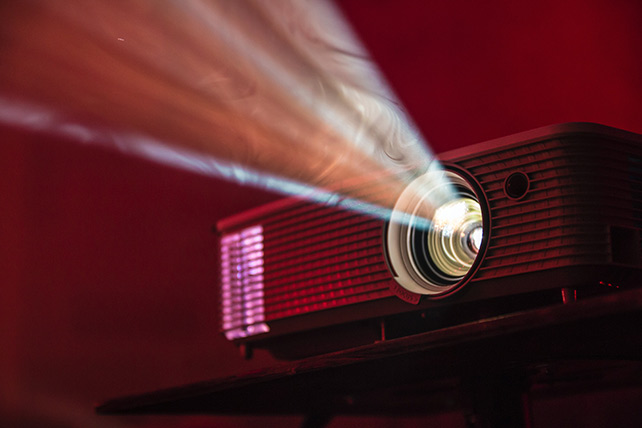 A great projector does more than simply allow a church to show videos, photographs, and presentations. They are easy to use, offer great sound, and impressive color, which means that every time they are used they need to be reliable and durable. While some 1080p projectors claim to offer impressive features, they tend to be overpriced and to fall flat. The Optoma EH416, however, is packed with great features which make it one of the most valuable projectors on the market today.
What Is the Optoma EH416?
The Optoma EH416 is a larger projector that can be used in a permanently mounted position or taken from one location to another.
It was first released in 2016 as the perfect solution for churches and businesses to use when presenting reports, showing song lyrics, or displaying videos and photographs.
This projector includes an impressive optical lens, as well as vertical lens, shift feature to ensure that it is easy to install.
Thanks to the edge mask of this projector, it won't produce jagged edges that are difficult for people to look at. Instead, everything is smooth and consistent, resulting in a clear and high-quality picture.
Who Is this Projector Designed for?
This is an incredibly powerful 1080p projector that is designed for businesses, as well as for use in houses of worship. Thanks to the impressive features that it offers, it can easily be used by the youth group for showing videos, during a council meeting to display charts and graphs, or during service. This projector is easy to use and allows users to project a very large display on any screen without worrying about a decrease in color clarity or saturation.
Even though the Optoma EH416 is loaded with great features, it's still surprisingly affordable, which means that most churches can generally find the money for this equipment in their budget.
Unlike some similar high-quality 1080p projectors that are overpriced, the price of the Optoma EH416 is very reasonable.
What's Included?
Optoma EH416 1080p Full HD 3D DLP Business Projector
4200 lumens and 20000:1 contrast ratio produces a sharp luminous image
Advanced Optical Lens features a 1.6x ZOOM and Vertical Lens Shift. Easy connectivity – HDMI, MHL, VGA, 10W speaker
Extensive array of connectivity options featuring dual HDMI and dual audio-in; Keystone Correction : ±40° Vertical
sRGB color profile enables vibrant and highly accurate colors via Rec709 HDTV spec
Compensate for loss of brightness with Wall Color Adjustment
The portable carrying case that ships with the Optoma EH416 makes it easy to not only safely store the projector when it is not in use, but also to transport it into various rooms in the church or out into the community if you are a mobile church.
Additionally, this projector comes with a remote, making it easier than ever to control the playback on the screen. Since the Optoma EH416 can be used wirelessly, long cables aren't necessary. However, some churches may opt to have them on hand for ease of connectivity. Investing in higher quality speakers is also a good idea, especially when the Optoma EH416 will be used for videos.
Primary Features of the EH416
One of the best features of the Optoma EH416 is that it offers multiple lamp modes. These are designed to reduce power consumption, improving lamp life, and reducing maintenance and the overall cost of ownership. Other great features include:
4200 lumens
1920 x 1080 resolution
Impressive 1.6x zoom
Advanced optical lens
10W speaker
HDMI, MHL, VGA connectivity
Vertical lens shift
Thanks to the auto power off of this projector, it will automatically turn itself off after a set period of time. This helps to save energy and reduce power consumption. It's easy to use tablets or smartphones to present documents and slideshows, videos, and photos thanks to MHL connectivity. This makes it possible for any user to easily control the Optoma EH416.
Unlike some projectors that don't offer different lenses, the Optoma EH416 has an interchangeable lens with a very large zoom range. This makes it possible to place the projector in various areas in a room, even if they are smaller. Optoma offers a five-year guarantee on their colors, which means that anyone opting for the Optoma EH416 will be sure to enjoy crisp and bright colors for years to come.
Since there are ports on either side of the projector, users can place this equipment close to the wall for a bigger screen size without worrying about it overheating. Since not all walls are white, churches will love that the Optoma EH416 offer wall color adjustment. This ensures that the colors are all true to life when broadcasting on the wall, as the projector will actually adjust them for the best appearance.
Alternatives to the Optoma EH416
Keeping an alternative in mind when shopping for a projector is a good idea, and the OPtoma WU334 is a great alternative.
Even though the Optoma EH416 is reasonably priced, it may still be more than some people can afford. The WU334, however, is much more affordable and is still loaded with impressive features. It has 3600 lumens, as well as a 15,000-hour lamp life, which is more than enough for most church use.
A more powerful option that can be used in lighter rooms thanks to its 6000 lumens is the Optoma X600. It's perfect for large screen applications and boasts energy-saving features, as well as network management and control. It also offers full 3D compatibility, as well as an impressive throw ratio.
Conclusion – Should You Consider this Projector?
The Optoma EH416 is an obvious choice for any church who is in need of a great 1080p projector that won't break the bank. Aside from its impressive connectivity options and impressive sRBG color profile, it boasts a lot of great features that easily set it apart from the competition. It's designed to be one of the most powerful projectors on the market without being so expensive that it will break the bank.
Churches who are concerned about how much energy their equipment needs will love the various energy saving modes that they can choose from. Because it can operate as a wireless projector, the Optoma EH416 reduces the need for long cables, although they can be used, if that is easier.
The remote contains a built-in laser pointer, which makes it easy for people to showcase certain information in their presentations.
Churches who invest in RoomView software will be able to control up to 250 of these projectors at once from a single laptop computer, which is an impressive setup for a larger church.
We hope our Optoma EH416 review has been helpful.
This article originally appeared here, and is used by permission.