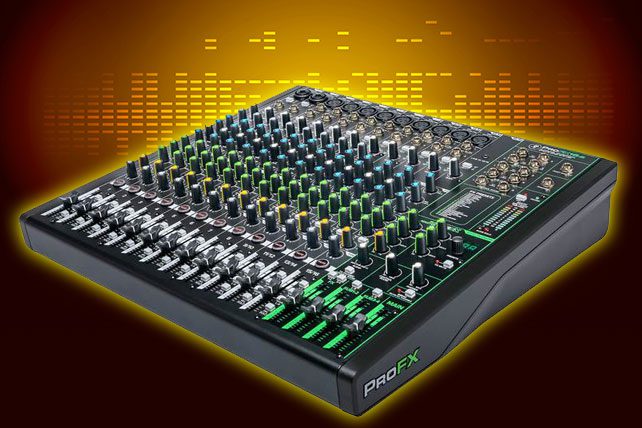 If you're a house of worship and interested in getting a professional PA system for your sermons and live productions, it's good to know that you can get just that regardless of your budget. Let's face it, smaller churches and synagogues don't always have large budgets for PA equipment, but that doesn't mean they won't be able to find something that perfectly suits their needs, especially if they know where to look. If you're going to have speakers and video cameras and other equipment, you'll need an effects mixer to complete the setup and bring everything together. The Mackie ProFX16v3 16-channel professional effects mixer is a reasonably priced mixer that does most of the things that the big boys do, only you can purchase it without breaking your budget. PA equipment is made to work together to get the results you need for your on-site and remote events, and this mixer is so versatile that you'll be glad you purchased it in the end.
What Is the Mackie ProFX16v3 16-Channel Professional Effects Mixer?
The ProFX16v3 16-channel mixer helps bring everything together so that your PA system can provide you with excellent sound and easy maneuverability, in part because it can accommodate most setups with ease. With this mixer, you get Onyx mic pre-amps with 60dB of headroom, allowing for great sounds from all instruments and the ability to keep everything in check with simple single-knob compression. It is a mixer that makes the job at hand a lot easier on the operator because it is both logical and versatile.
With this mixer, you can record tracks in 24-bit/192kHz quality, and it can be done with 2×4 USB I/O and zero-latency hardware monitoring. You also get two software packages to make the system easier to operate: Pro Tools First and Waveform OEM. In fact, once you get the mixer, you'll likely be surprised by how many things come with it that enables you to start using it right away.
Who Is This Mixer Designed for?
A lot of organizations will appreciate this 16-channel professional mixer, but if you're a small or medium-sized house of worship on a budget, you'll appreciate it even more. Priced at around $500, it not only gives you a lot of bang for your buck, but it's also a very reliable mixer that you can count on using for many years to come. Even when the mixer starts to age and is covered in dirt and grime, you're going to be surprised by how great it sounds once you plug it in and start to use it.
When you want a professional mixer but your budget won't allow you to spend hundreds of dollars on one, the ProFX16v3 16-channel mixer is definitely one to consider. In fact, everything you're looking for in a mixer is found in this particular one, providing you with the peace of mind you need and deserve.
What Is Included When Purchasing the Mackie ProFX16v3 16-Channel Mixer?
Fortunately, you get everything you need to start using this mixer immediately. This includes your professional software tools, Waveform DAW, two 1/4" to 3.5 mm adaptors, a total of eight different XLR and TRS cables, 10 cable ties, and a microfiber cloth. In all, you get a total of 21 pieces that help you set up the mixer properly so that you can start enjoying it in no time. The mixer also comes with a one-year warranty to give you the peace of mind you deserve, which is definitely an added perk.
Primary Features of the Mixer
Some of the many advantages of purchasing this mixer include:
Three-band EQ and 100Hz low-cut filter on all channels
48-volt phantom power on all mic channels
Built-in channel compression
Eleven Onyx mic pre-amps for 60dB of gain and a great clear signal
GigFX effects engine with 24 effects that include delays, reverbs, and choruses
Great audio quality thanks to 24-bit/192kHz A/D
Headphone output with separate volume to get more comfortable monitoring
USB to record into your computer and for playback music
In fact, when it comes to top-notch features, the Mackie ProFX16v3 mixer has it all. This mixer is indeed a high-tech device that allows you to be versatile with it whether you're inside at a live production or out on the road in a remote location. You also get perks such as 16 60 mm faders, 8 mono and 4 stereo channels, a 1/4-inch I/O for a footswitch, and most importantly, a very rugged design that means you can abuse it and it will still keep on going!
Frequently Asked Questions (FAQs)
How big is this Mackie 16-channel mixer?
Its measurements are 17.7" x 17.1" x 4.3".
Is the mixer complicated to get set up?
No. This is essentially a plug-and-play setup that you can have up and running in minutes, not hours, making it perfect when you are on the road in many different locations.
What cables do you get with the mixer?
You get four Mophead 10-foot TRS cables and four 10-foot XLR cables, as well as two adapters and 10 cable ties.
What types of jobs can this mixer accommodate?
You can use the Mackie ProFX16v3 mixer for home recording, live sound, live streaming, and content creation, making it a very versatile mixer.
One of the things that make the Mackie ProFX16v3 mixer such a great piece of equipment is its versatility. You can use it inside and outdoors, in small venues and large, and for a variety of recording tasks. It is reasonably priced, making it perfect for houses of worship that tend to be on a budget, and it comes with everything you need to begin using it immediately. To make it even better, it is a well-built device that you can bring with you to various locations without worrying about how well it will work next time.
Thi sarticle on the Mackie ProFX16v3 originally appeared here, and is used by permission.