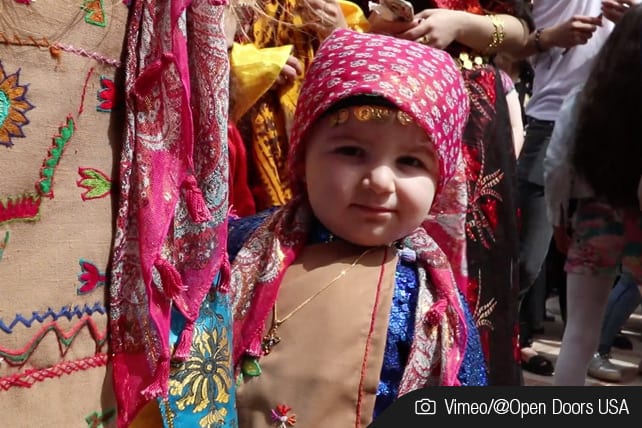 For the first time since 2014, Christians in Northern Iraq were able to celebrate Easter without a significant fear that they would be killed. It was four years ago that the Islamic State took control of the region around Mosul and the Nineveh plains. The militant group targeted Christianity destroying churches and the homes of Christians.
About 55,000 Christians fled the Hamdaniya district after ISIL took over. According to local authority figures, about 25,000 have returned, but many are struggling to rebuild.
But the financial hardships did not dim their enthusiasm as thousands of Iraqi Christians walked through the streets of the ancient towns, waving palm and olive branches; praying, singing and remembering the triumphant entry of Jesus Christ. Their chorus: "King of kings and Lord of Lords. Glory! Hallelujah!"
As Open Doors described it, "Today, the world can see and hear the powerful truth—Christians have returned to the Nineveh Plain."
The turnout for Easter celebrations, particularly in the city of Duhok, included hundreds of local Christians as well as participants from around the world.
Juliana Taimoorazy, Founder and President of the Iraqi Christian Relief Council Taimoorazy, said there is increased awareness in the Assyrian diaspora for reconnecting with the land. There is even a group called Gishru, which she compares to Birthright that is bringing people to Iraq to see the history and reconnect with locals. She told the Jerusalem Post the renewed activity among Christians in Iraq is a sign of better things to come.
"People are sick and tired of business as usual. This is the same across Iraq, among Kurds and Arabs I met. They want to see revival. They want new blood." Iraq is facing elections in May and Christians will compete for several reserved seats in parliament. Her greatest fear is that the Assyrian Christian minority will become an artifact in a museum rather than a thriving and living community.
"I don't want the world on the sidelines watching us become extinct. As I was walking and looking at children's faces and elderly people I saw a community that wants to live and breathe and excel."
She also seeks to appeal across the numerous denomination lines of Christians in Iraq including Chaldeans, Syriacs and Assyrians. For that she is thankful to organizations like the Philos Project that have shown support for her work, connecting Christian communities in the West with those in the Middle East.
A 25-year-old teacher named Andraws told Open Doors to tell Christians around the world, "Please do not lose hope. Two and a half years we were displaced and we almost lost hope to ever return here. But today, we are here again, because of Jesus; because we had hope in Him," he said. Standing amidst the thousands of Christians, Andraws added, "As you can see: the Christians have returned to Qaraqosh!"
The Iraqi government has asked the international community for $100bn to reconstruct former ISIL-held areas, but nowhere near that amount has been pledged.
Despite the shortfall, the community came together on Easter to pray, remember Christ's resurrection and raise money for those hoping for a rebirth of their own.For Father Robert Jerjees in Baghdad, the ringing of church bells on Easter Sunday in the Mosul area is both a relief and blessing. He told Al Jazeera: "[The fact] that our Christian brothers and sisters are coming back to their hometowns and rebuilding their future once more despite huge challenges gives an indication of resilience and the strong will to co-exist in this multireligious country."