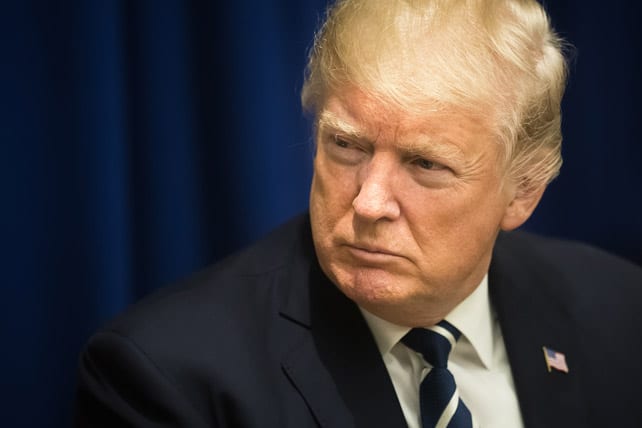 Saying, "It's about keeping families together while ensuring we have a powerful border," President Donald Trump signed an executive order Wednesday that is meant to keep families together at the border as part of U.S. Immigration policy.
The order would allow families to be detained together but would not stop the "zero tolerance" policy of charging people with a misdemeanor for entering illegally. Under the policy, families would be held in immigration detention together and escalates hearings for families in detention, putting them at the head of the line, to speed up processing.
The order directs other agencies, including the Pentagon, to take steps to find places to house family units. It also specifies that migrants entering the U.S. with children will not be kept together if there's a fear for the child's welfare.
The executive orders will go into effect following input from the Office of the Legal Counsel. The details of the executive order were worked out between the White House, the Justice Department and the Department of Homeland Security, according to CNN sources.
The family separations came about because of the zero tolerance policy, which aims to prosecute all illegal border crossers, and a 1997 order, known as the Flores settlement, that states children cannot be detained for longer than 20 days even if they are with their parents.
Fox News quotes sources who believe the executive action by Trump could be seen to run afoul of Flores and would likely draw a lawsuit. But the White House wants to try to take steps to uphold the enforcement of the law, while at the same time lessening the trauma of children being separated from their parents.
Other news reports say Homeland Security Secretary Kirstjen Nielsen is likely to recommend that Trump support developing House legislation or, if that doesn't pass, a standalone bill to close the "loopholes" regarding family detention. During the order-signing, Nielsen again called on Congress to act.
House Speaker Paul Ryan said the House would vote Thursday on a compromise between conservative and moderate Republican lawmakers that would address the issue of family separations. And Senator Ted Cruz has said he plans to introduce legislation this week that also would keep families together.
Rev. Dr. Samuel Rodriguez, President of the National Hispanic Christian Leadership Conference, and a Trump advisor, said in a statement:
"I join with millions of Americans of all political persuasions in expressing my relief that our country's collective crescendo of horror at seeing families separated at our southern border has led this administration to urgently advance an executive order to keep families intact during processing. Indeed this policy was misguided, poorly communicated to the public, and is anti-American. We must be able to agree on something so simple and so fundamental as keeping families intact whenever it's in our power to do so."
Rodriguez said the executive order is just a start and hoped for true reform to correct the immigration system.
Democrats welcomed Trump's apparent change of course but said he had only himself to blame.
"The President is the one that created this humanitarian crisis," Texas Democratic Rep. Joaquin Castro told CNN's Wolf Blitzer. "I hope the President will fix the problem that he created."