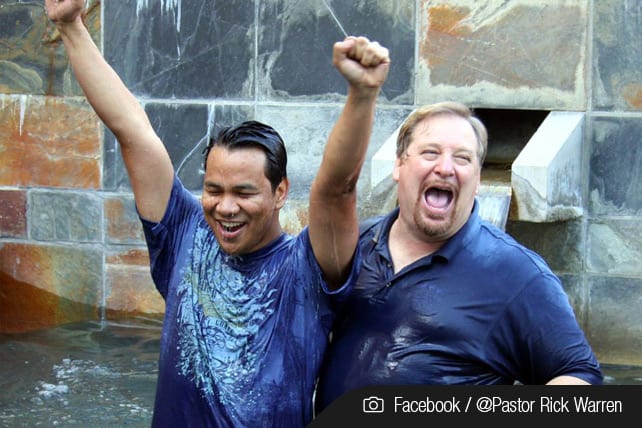 Saddleback Church reached a milestone this past Sunday that demonstrates its dedication to the gospel and evangelism.
The church, started by pastor Rick Warren 38 years ago, recorded its 50,000th baptism.
On his Facebook page, Warren thanked church members for their role in reaching the milestone.
"I'm often asked: Why has this church, by God's grace, been able to bring so many unbelievers to Jesus?
"Because of your LOVE!
"YOU genuinely love people and you want them to go to heaven with you! Every day, you bring your friends, co-workers and family to Jesus. Honestly, I've never seen a group like you anywhere else in the world. I'm humbled to be your pastor, and I could not be more proud of you."
50,000 baptisms in 38 years is quite a feat. Warren did the math and found that since Easter 1980, the first service at Saddleback, "we've baptized almost four changed lives every single day. (Precisely 3.7 people every day.) YOU'RE PART OF A MIRACLE!"
Saddleback's Milestone Comes as SBC Baptisms Fall
The milestone comes as the Southern Baptist Convention, of which Saddleback is a member, reports a decade of declines in baptisms.  
At its annual meeting in June, SBC congregations reported baptizing 254,122 people—26.5 percent fewer than in 2007. The ratio was one baptism for every 59 church members.
"It's heartbreaking to be baptizing fewer people for Christ, even though Southern Baptists have nearly 2,900 more churches than we had a decade ago," said LifeWay President and CEO Thom S. Rainer.
"Yet a quarter million baptisms is not an insignificant number. We praise God for every individual who has come to Christ and followed Him in baptism. It is my prayer that God would embolden Southern Baptists to share the gospel with their friends and neighbors.
"We know conversion is only by the Holy Spirit, but we also know God begins most of these conversions with gospel conversations."
Warren wrote that according to Acts 2:47, the first Christian church (in Jerusalem) baptized someone every day. "Think about that. Daily!" Warren wrote on Facebook, "That means, at the very least, the first church baptized at least 365 new members annually! Not many churches have ever matched that kind of growth. But YOUR CHURCH has!"
This weekend's services also included an acknowledgment of all of those in attendance who had themselves been baptized at Saddleback. A photo montage was displayed with images gathered from throughout the decades at Saddleback.
"Why is baptism such a big deal?" Rick Warren asked while standing in the baptism pool. "There are two reasons. First, Jesus commanded it. Second, he modeled it…this is the way I say to the world 'I'm in! I'm a part of the family of God…there is no reason to wait!'"