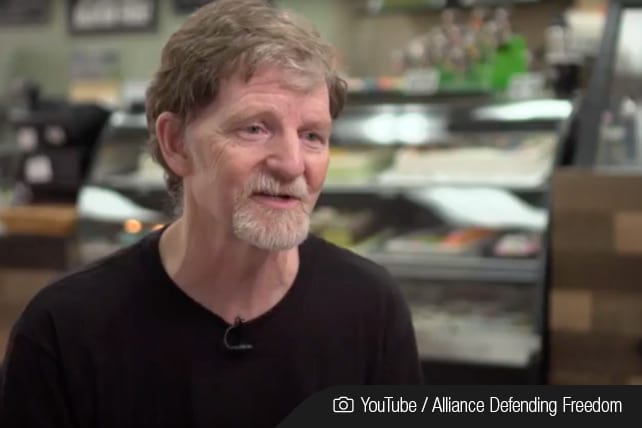 UPDATED June 17, 2021: The well-known Christian baker, Jack Phillips, of Masterpiece Cake Shop, was back in court on June 16, 2021, for refusing to make a cake for a person celebrating a gender transition.
Phillips denied a request from Autumn Scardina, who wanted the baker to make a cake that was blue on the outside and pink on the inside. Phillips said he wouldn't make the cake because of the message behind it.
Denver District Judge A. Bruce Jones found Phillips guilty of violating Colorado's anti-discrimination law. Judges Jones said, "The anti-discrimination laws are intended to ensure that members of our society who have historically been treated unfairly, who have been deprived of even the everyday right to access businesses to buy products, are no longer treated as 'others.' " The violation will cost the Christian baker a $500 fine.
One of the attorneys representing Scardina said, "This is about a business that is open to the public that simply says to an entire class of people in the community that your identity, who you are, is something that is objectional."
Alliance Defending Freedom, an organization that says it is "the world's largest legal organization committed to protecting religious freedom, free speech, marriage and family, parental rights, and the sanctity of life," will appeal the ruling.
In an article published about Phillips on Alliance Defending Freedom's site, it says, "Every American should have the freedom to live and work according to their beliefs without fear of government punishment." Explaining that Phillips serves everyone at his bakery, but "what he can't do is create custom cake art that celebrates events or expresses messages in conflict with his religious beliefs. And now, he is once again being threatened with punishment for exercising this freedom. It is time to leave Jack alone."
---
ChurchLeaders original article written on August 15, 2018, below:
After being told by the highest court in the land that it had openly disparaged a baker's Christianity, the Colorado Civil Rights Commission is going after the baker and his beliefs again.
On the day that the U.S. Supreme Court agreed to hear the case of Jack Phillips of Masterpiece Cake Shop, who refused to bake a cake for a same sex wedding, Autumn Scardina, who says he is a man becoming a woman, asked Phillips to create a custom cake celebrating his "coming out."
Phillips refused and Scardina, a family law attorney, filed a complaint with the Colorado Civil Rights Commission.
The commission said Phillips was again in violation of state law for insisting that he will not "design custom cakes that express ideas or celebrate events at odds with its owner and staff's religious beliefs."
This is the same state agency that was publicly rebuked by the U.S. Supreme Court for its exhibited hatred of Christianity in the Masterpiece Cake case only weeks ago.
In the 7-2 ruling the justices wrote the "Civil Rights Commission's consideration of this case was inconsistent with the state's obligation of religious neutrality."
Masterpiece Cake Sues Colorado
Alliance Defending Freedom filed a federal lawsuit late Tuesday night against the commission on Phillip's behalf, over the state's second attempt to compel him to bake a cake with a message that violates his religious beliefs.
He's suing the commission for violating his constitutional right to live out his religious beliefs and his right to due process under the law.
"The state of Colorado is ignoring the message of the U.S. Supreme Court by continuing to single out Jack for punishment and to exhibit hostility toward his religious beliefs," ADF's Kristen Waggoner said in a statement. "Even though Jack serves all customers and simply declines to create custom cakes that express messages or celebrate events in violation of his deeply held beliefs, the government is intent on destroying him—something the Supreme Court has already told it not to do. Neither Jack nor any other creative professionals should be targeted by the government for living consistently with their religious beliefs."
The complaint points out that because of Colorado's attack on Phillips, he has received a number of requests for cakes "featuring Satanic symbols, depicting sexually explicit materials and promoting marijuana use."
"It is now clear that Colorado will not rest until Phillips either closes Masterpiece Cakeshop or agrees to violate his religious beliefs," the complaint reads. "The state's continuing efforts to target Phillips do not just violate the Constitution; they cross the line into bad faith. This court should put a stop to Colorado's unconstitutional bullying."
The lawsuit also claimed the U.S. Supreme Court's June 4 decision on the 2012 matter "vindicated" Phillips.
The Colorado Civil Rights Commission is a seven member board that is appointed by the governor with members confirmed by the state Senate to four-year terms. The current commission is made up of three Democrats, two unaffiliated members and one Republican. Colorado Governor John Hickenlooper is also named in the suit.