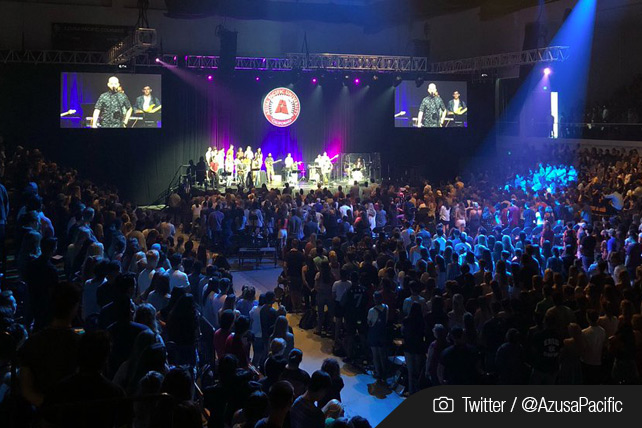 After extensive dialogue between students and administrators, Azusa Pacific University (APU) has ended a ban on public same-sex relationships on campus. Starting this fall, the student conduct code at the evangelical Christian college no longer singles out homosexuals; instead, "biblical standards of sexual behavior" are upheld for all students.
According to a report in APU's student publication, associate dean of students Bill Fiala said the goal is to have a consistent standard for everyone rather than "differential standards for different groups."
APU alumni Erin Green says it's "unfair to single out queer folks in same-sex romantic relationships" when it's "impossible to enforce or monitor" whether heterosexual couples are abstaining. Green is co-executive director of Brave Commons, an LGBTQ organization that helped facilitate conversations about the issue.
"Queer students are just as able to have romanticized relationships that abide by APU's rules," says Green. "The code used falsely assumed that same-sex romances always involved sexual behavior. This stigmatization causes harm to our community, especially those serious about their Christian faith."
The debate at the California school made headlines last year when LGBTQ students demanded justice for an employee who was allegedly harassed. Mahesh Pradhan, 52, a former line cook at APU, says co-workers who thought he was gay called him names, hit him with a paddle, locked him in a freezer and more. Pradhan also contends he was unfairly removed from a supervisory role.
APU denies the allegations, saying it values and respects employees and doesn't tolerate harassment. "It's completely against who we are as a university community," says spokeswoman Rachel White.
In addition to changing its conduct code, APU is creating a "safe space" for students, Fiala says. Previously, LGBTQ students had to meet secretly off campus and couldn't advertise their support group, called Haven. In a new pilot program, the Office of Student Life hired two student interns and is permitting Haven to have weekly on-campus meetings.
One intern, Courtney Fredericks, hopes to end negative stereotypes about the LGBTQ community. "We're not secular," she says. "We're looking for a space to worship as we are."
So far, the turnout has been encouraging to Dylan Capote, a junior. "I feel like there's already a degree of acceptance at APU," he says.
Fiala says APU still has a "conservative, evangelical perspective on human sexuality" and that only the language, not the "spirit," of the code changed. In its statements of belief, the university maintains:
We hold that the full behavioral expression of sexuality is to take place within the context of a marriage covenant between a man and a woman and that individuals remain celibate outside of the bond of marriage. Therefore, we seek to cultivate a community in which sexuality is embraced as God-given and good and where biblical standards of sexual behavior are upheld.
Through APU's pilot program, Fiala hopes students experience "respect, justice, grace and understanding." The mission is "consistent with Christianity," he says, because the values and goals are inclusivity, love, bravery, care, connection and conversation. "These all seem like Christian values to me," he says.
Critics say APU is caving to pressure from the LGBTQ community. "They can tell themselves whatever they like about their 'spirit,' but it's self-deception," writes Rod Dreher. "This is how conservative institutions surrender: by giving up, then telling themselves (and their donors) that they haven't surrendered. Saving face is not the same thing as saving the institution's core values."
Fiala expected pushback and encourages critics to "approach things as a learner." He says, "Before making assumptions and drawing conclusions about people, get to know somebody different than you. I'm not a big fan of who's right and who's wrong in this conversation; I'm a big fan of caring for people. So my hope would be that we treat each other that way."