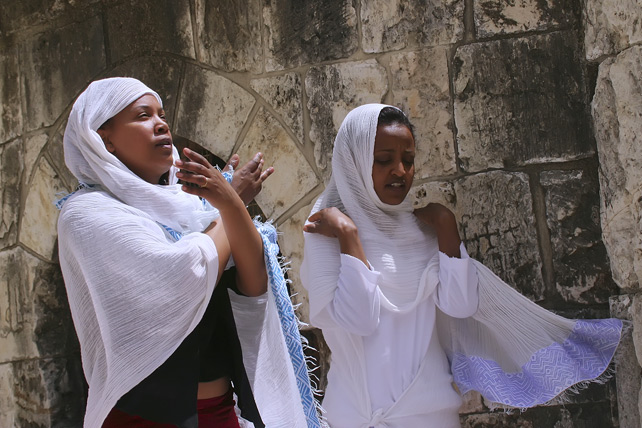 Editor's Note 
October 5, 2018
The winner of the 2018 Nobel Peace Prize was announced earlier today. Denis Mukwege, a Christian gynecologist working in the Democratic Republic of the Congo, and Nadia Murad, a Yazidi activist who survived enslavement by ISIS in Iraq, received the reward. The two were selected based on their " efforts to end the use of sexual violence as a weapon of war." While the Coptic Christians did not receive the prize, we are still very encouraged by the selection of Mukwege and Murad, as well as the fact that the Coptic Christians were nominated. To God be the glory and may he help us in these troubled times.
---
In what's believed to be a first for an ethno-religious group, Egypt's persecuted Coptic Christian minority is in the running for the 2018 Nobel Peace Prize. A winner will be announced on October 5.
The Copts, who are indigenous to Egypt, have faced brutal attacks in the Middle East since the Arab Spring protests of 2011. Yet they refuse to fight back or to meet violence with violence.
A recent report from the charity Open Doors says Coptic Christians face "unprecedented levels of persecution" yet "have consistently refused to retaliate and continue to practice peaceful co-existence."
According to Open Doors, 128 Coptic Christians were killed for their faith in 2017, and more than 200 were forced from their homes. Last April on Palm Sunday, 49 Christians were killed in church bombings. The next month, 26 Christians on their way to worship were attacked and killed by gunmen.
ISIS has taken responsibility for most of the attacks, which include beheadings. The Islamic terrorist group calls Coptic Christians their "favorite prey" and has promised to put an end to the Coptic people, whom they call infidels.
Coptic Christians Are Undeterred by Terrorism
Coptic Christians have been praised for their martyr-like faith amid the attacks. When gunmen demand they renounce their faith and turn to Islam, the believers refuse, knowing they face certain death.
Although terrorism has become commonplace and almost expected for Coptics, the conditions take a toll on them. David Saeed, who was worshiping at St. Mark's Orthodox Cathedral in Alexandria during the Palm Sunday attack, said he was shocked but not angry. "We're used to [this kind of violence] here in Egypt," he said. "Every church in Egypt just prepares for this. Everyone knows that some time you will get bombed, you will be killed."
Christian women in Egypt face harassment for their gender as well as their faith. Engy Magdy, a Coptic journalist based in Cairo, calls life "hell" for female believers. In an op-ed, she writes, "To be a woman in a country where most of her people see women as a disgrace, and at best look at her from a sexual point of view, it is a heavy burden." Because Christian women don't wear a hijab, they are targets for abuse. "The Egyptian man thinks he has the right to harass her, simply because he sees her as a whore and a disbeliever."
Violence Against Coptic Christians Isn't New
Coptic Christians trace their roots to the first century, when the apostle Mark introduced the Gospel to Egypt. For centuries, the Copts have faced persecution for practicing their beliefs. As non-Muslims in a Muslim-controlled land, they also were historically subjected to a head tax, or jizyah.
Coptics, the largest Christian minority group in the Middle East, comprise about 10 percent of Egypt's population. Around the world, Coptics number about 20 million.
More than 300 nominees are in the running for this year's Nobel Peace Prize. Although organizations such as the American Red Cross and Doctors Without Borders have previously received the award, no ethno-religious group has ever done so. Following next week's announcement of the winner, an official award ceremony will be held in Stockholm in December.