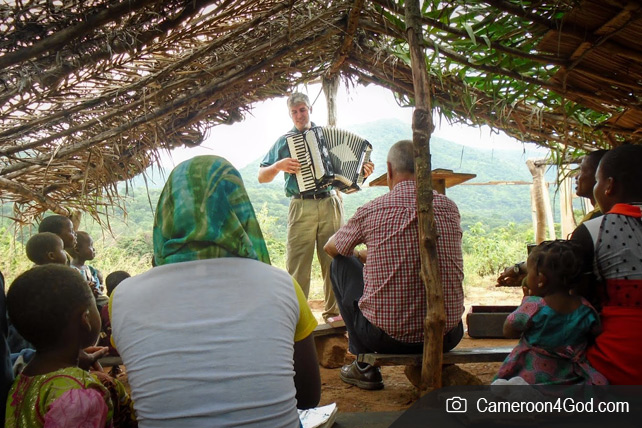 Charles Wesco, an American missionary in Cameroon and father of eight, was remembered today in a memorial service in his home state of Indiana. Wesco was remembered as a devoted Christ-follower who had a heart for young people and the people of Africa.
"Charles gave his life for the people of Cameroon, West Africa. He is with his Lord and Savior who he faithfully loved and served and has received the martyr's crown," his obituary reads.
Wesco and his family had moved to the west African nation of Cameroon in September of this year following a years-long campaign to raise funding to be able to serve as missionaries. On Tuesday, October 30, 2018, while traveling in a vehicle with another missionary, his wife, Stephanie, and one of their sons, Wesco was shot through the windshield of the vehicle. The Cameroonian government issued a statement saying a "sneaky terrorist" attacked Wesco. He was shot in his skull and shoulder. Wesco was rushed to a hospital by workers with Doctors Without Borders, but he eventually died from his wounds.
Prior to relocating to Cameroon, Wesco served in various ministerial roles, having felt a calling to ministry from the age of 15. Wesco attended Midwest School of Theology, Northland Baptist Bible College, and Baptist College of Ministry to study the Bible. He served at Fellowship Baptist Church in South Bend, Indiana, for 10 years as the assistant pastor, where he worked with young people in the church. For the past five years, Wesco had served at Believers Baptist Church in Warsaw, Indiana, where he was ordained and commissioned as a missionary. A survey trip in 2015 took Wesco, Stephanie and his two eldest children to Cameroon. It was then that the family decided God was leading them to serve in this African nation.
In addition to ministry work, Wesco was also a skilled piano tuner and musician. According to his obituary, Wesco played the piano, accordion, harmonica and euphonium.
Wesco was a devoted husband and the father of eight children. Speaking of his family, his obituary lists the many people he called family:
He is survived by his wife, Stephanie, and eight children—Daniel, Charles Jr., Joseph, Hudson Taylor, Stephanie Joyanna, Samuel, Caleb and Emmeline. His parents, Virgil and Rebecca Wesco, and siblings—Jonathan, Virgil Jr., Ruth, Stephen, Timothy, Nathaniel, Karisse, Lawrence and Joel—as well as in-laws and many nieces and nephews. His grandparents, Charles and Barbara Walter. Also surviving him are his wife's family, who dearly loved him: Donald and Wenda Williams, Faith, Grace, Stephen, Hope, Joy, Mercy, Mary, John, Daniel, in-laws and nieces and nephews. He was preceded in death by his grandparents, Truman and Zelma Wesco, and three children, Hosanna, Peace and Rose. Charles loved all of his family dearly and desired that each one would love the Lord God with all their heart, soul, mind and strength.
In Cameroon, government officials launched an investigation into Wesco's death. Cameroon's Minister of Communication, Issa Tchiroma Bakary, issued a statement concerning their investigation. A portion of the statement is reprinted below:
A group of terrorists broke in on the morning of Tuesday, October 30, 2018, at about 10 a.m. in Bambui, a rural area located 14 kilometres from Bamenda in the Tubah Subdivision of the Mezam Division, with the aim to attack the university area and the Tubah Territorial Brigade.
At the same time, American-born Reverend Charles Truman Wesco of blessed memory was passing around when he received a 12-gauge oblique bird-shot fired by a sneaky terrorist. Several pellets reached the victim at the parietal level of his skull, one below the lower right jaw and the last one at the level of his shoulder. He eventually succumbed to his wounds.
The Minister Delegate at the Presidency of the Republic in charge of Defence issued a release after this incident indicating that an investigation would be opened immediately. After the first elements of the said investigation were provided by the Judicial Police Officers of the North West Gendarmerie Legion, the remains were transferred to the Yaoundé General Hospital, where an autopsy was carried out in the presence of Cameroonian and American forensic doctors, a representative of the United States Embassy in Cameroon and the Government Commissioner to the Yaoundé Military Court.
During the autopsy, the pellets extracted from the remains confirmed that the shots that killed Reverend Charles Truman Wesco did indeed come from a 12-gauge weapon which is, as we know, used by the secessionist terrorists operating in the North-West and South-West regions.