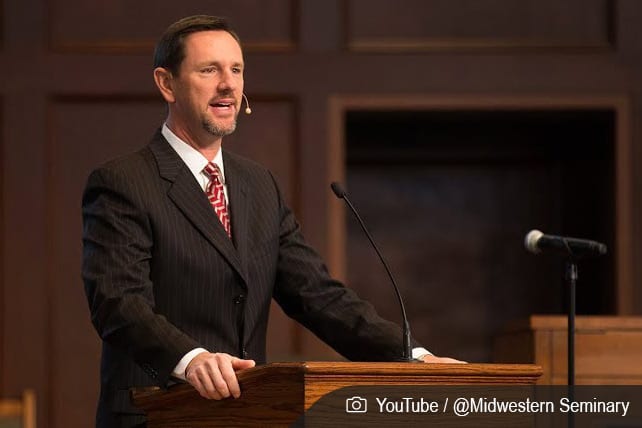 In a unanimous vote by trustees of the International Mission Board (IMB), Dr. Paul Chitwood has been named the organization's new president. As the sending arm of the Southern Baptist Convention, the IMB is the largest missions group in the world.
Chitwood, 48, replaces David Platt, who stepped down in late September. Since then, Clyde Meador has been interim president. During the transition, Chitwood has asked that Meador remain as interim executive vice president.
A Servant Leader Who's "uniquely qualified"
Search committee members and IMB trustees praised Chitwood, saying he's well-equipped for the board's important work. "Dr. Chitwood is uniquely qualified to lead us into the next era of Southern Baptists reaching the nations," says search committee chair Chuck Pourciau. "His missions heart and leadership acumen will serve us well in the years to come." Pourciau adds that the committee "experienced a God moment" when selecting Chitwood.
IMB trustee Trent Snyder says, "I can think of no other person who is better equipped, motivated and passionate to lead Southern Baptists in reaching the nations with the gospel of Jesus Christ."
When the search committee named Chitwood a candidate on November 6, Southern Baptist Theological Seminary president Al Mohler offered an enthusiastic endorsement: "He has the heart, mind and soul to lead the International Mission Board with skill, devotion, energy and vision."
Chitwood, a Tennessee native, served as pastor of various Kentucky churches for 18 years and has extensive experience with short-term overseas missions. Chitwood was an IMB trustee from 2002 to 2010, serving as chairman from 2008 to 2010. He's also an adjunct professor of leadership at Southern Baptist Theological Seminary.
For the past seven years, Chitwood has been the Kentucky Baptist Convention's executive director. In that role, he focused on strengthening local churches, planting new ones, reaching unchurched people and directing funds to international missions.
"It is so obvious that God has been preparing Paul for this role in so many ways," says Rick Dunbar, IMB trustees chairman. Dunbar adds that Chitwood's wife of 25 years, Michelle, also "will be a great asset to the IMB." The couple have three children, plus a foster daughter they're hoping to adopt.
Chitwood's Vision for the IMB
In his first remarks as president, Chitwood expressed gratitude and promised to be humble, accessible and faithful. He and Michelle will "wash the feet of our missionaries, even as I lead our staff," the new president says.
Chitwood isn't bringing a new vision to the organization because it's "not ours to fashion," he notes. Rather, "God has given [the vision] to his church."
The IMB doesn't need another reorganization, Chitwood adds, but it does need to "re-establish a missionary pipeline of God's choice servants." To achieve that, he's calling on Southern Baptists to make funding denominational missionaries "our first priority in giving."
In his farewell to Kentucky Baptists, Chitwood said people who shared the gospel with his family years ago "didn't have any way of knowing that…there was a 5-year-old boy who needed to be invited to church so he could one day become the IMB president." But "what they did know was that the Lord of the Harvest had called them to the field." Likewise, Chitwood said, "millions of lost people" need to hear the good news, so "to the fields we must go."