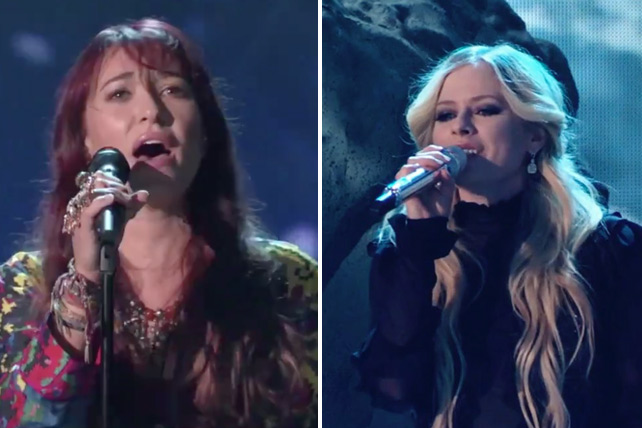 Christian music seems to be getting a lot of mainstream air time lately thanks to Avril Lavigne and Lauren Daigle. Both artists performed songs with strong Christian themes Monday night on the popular show Dancing With the Stars.
Lavigne performed her new single, "Head Above Water," and Daigle performed "You Say." The two were featured prominently in the series finale for Dancing With the Stars, which drew about 7.9 million viewers.
Some of Lavigne's fans may be surprised by the Christian themes found in her songs lately. The artist, who became popular in the early 2000s for her skater persona and powerful singing voice, left the spotlight for a few years after announcing in 2015 that she was battling Lyme disease. Her song "Head Above Water" is a musical rendition of a prayer she prayed one night as she thought she was dying. The ordeal with her sickness has caused Lavigne to consider her spiritual condition and reach out to God. A new album featuring "Head Above Water" is due out early next year.
Lavigne has used her Instagram account to share Scripture and positive messages lately.
Daigle, on the other hand, is a familiar name on the Christian music charts. The singer has been growing in popularity among Christian fans for the last several years. However, this year she really broke onto the secular stage. With performances on The Ellen Show and The Late Night Show with Jimmy Fallon, Daigle is winning fans who normally wouldn't listen to Christian music. Her performances on those shows were met with some consternation from Christian fans who wish her not to sell out, but for the most part, fans have been very supportive of her trying to cross over into more secular audiences.
Daigle's song "You Say" talks about the difference between what a person might think about him or herself versus what God says about them. The song is featured on Daigle's "Look Up Child" album, which came out earlier this year. The chorus of "You Say" really communicates the theme of love and acceptance we find in Christ:
You say I am loved when I can't feel a thing
You say I am strong when I think I am weak
You say I am held when I am falling short
When I don't belong, oh You say that I am Yours
And I believe, oh I believe
What You say of me
I believe
The fact that a show as popular and with as many viewers as Dancing With the Stars asked Daigle and Lavigne to perform Christian-themed songs is very significant. The show has had Christian contestants on before who have danced to Christian music, but this is a first for them to prominently feature two artists who are public about their respective relationships with God. It's certainly going to be interesting to see what these two artists do next!