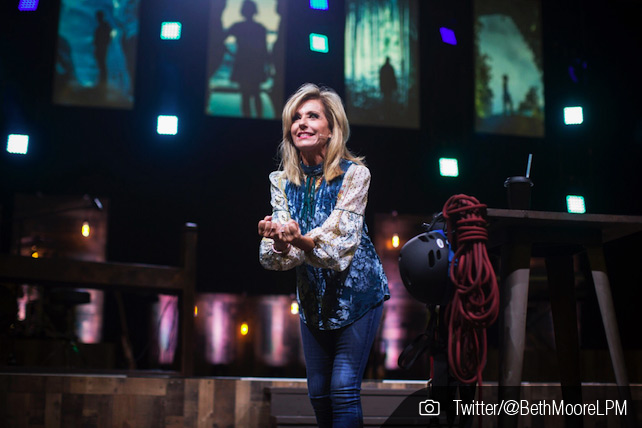 It started in 2016 with a series of tweets. Bible teacher and author Beth Moore wrote a pointed thread about the abuses women suffer and seeming lack of care from Christian leaders. The backlash was instantaneous and the effect, on Moore, irreversible.
This event, coupled with a lifetime of instances where she was disrespected, belittled, objectified and silenced, caused Moore to question the "rules" she and other conservative Christians have long adhered to regarding women. She told Mark Labberton on his Conversing podcast that she felt as if she "had played by rules that some were not keeping. In other words, I thought we were all doing this…because we were all trying to be obedient to Scripture."
Beth Moore's Eyes Opened to Sexism in the Church
Slowly, Moore began to see where the beloved church she had been serving for decades had not been seeking to obey Scripture in some cases so much as it had "taken on manifestations of sexism and misogyny." Earlier this year, Moore wrote an open letter to Christian men, in which she stated her reasons for believing misogyny had infiltrated the church. The reaction to Moore's letter was mixed. Quite a few women and men thanked her for speaking the truth, for shining light on an issue that has long been swept under the Christian rug.
The minute Moore uttered the "m" word (misogyny), she expected backlash. But what surprised her most, she told Labberton, was the ire she drew from other women. Women who had long been followers of her Bible studies told her they would never read anything from her again.
While Moore was devastated by what she had allowed herself to see in the institution for which she had so much love and respect, she was undeterred by the criticism coming her way. Moore told Labberton to expect her not to say anything would be akin to "expecting a dog not to bark at a burglar."
The question Moore is asking of the church is: Can we not grapple with the entire New Testament teaching on women? If we only look at 1 Timothy 2 and 1 Corinthians 14, aren't we in danger of taking those texts out of context and ignoring the rest of what Scripture has to say about women? For instance, what do we do with passages like Luke 8 and "the end of Romans, for crying out loud"?
The veteran Bible teacher sees a very curious tension in the Scripture between the passages Paul penned in 1 Timothy and 1 Corinthians and other passages where he indicates he served "elbow to elbow and shoulder to shoulder" with women he considered "fellow workers," as Moore puts it.
That's not even mentioning Jesus, who "could not have been more intentional than to make sure that he established women as credible witnesses of the resurrection," Moore says.
The tension of simultaneously liberating women and giving them boundaries that is present in Scripture is something Moore has lived out in her own life. She tells Labberton about the pastor of her church at First Baptist Church in Houston, Texas, who, many years ago, encouraged Moore to lead a Sunday night Bible study at the church. Initially refusing, Moore claimed she couldn't teach it because she's a woman and women are supposed to be under the authority of men. Her pastor responded, "Do I not look like an authority figure to you?"
It's Sexist to Only Teach the Passages Putting Limitations on Women
To only focus on certain passages is to misrepresent Scripture to women, Moore believes. Moore has started to ask questions, not to undermine the authority of Scripture, which she believes is infallible, but to help women, particularly younger women. She is willing to take risks and sacrifice for the younger women in the church who are asking themselves those very same questions.
"I'm just too old to care [how popular I am]," Moore says. And while her voice is light as she says this, it's obvious Moore has taken some pretty big risks these last couple of years by addressing misogyny in the church and by asking things like why the church is so quick to cover up sexual abuse. Some might accuse Moore of biting the hand that feeds her when she criticizes the church, yet she sees her speaking up as something very different. Moore says she loves the church and she "wants to fight for the Church."
Part of that fighting is asking questions on behalf of the women who don't have the ability to ask those questions. Labberton agrees that is what Moore is doing. "Many women are feeling that you are naming for them something that their faith or their church or their experience has not given them space to be able to name," he tells her.
You can listen to the full interview below.