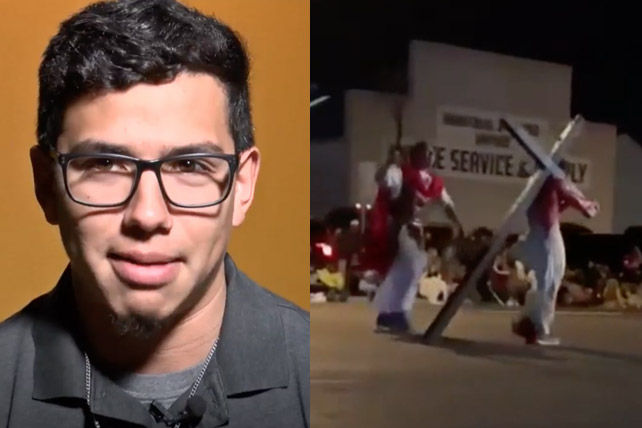 The Parade of Lights in Odessa, Texas, this year included a scene that most might be more used to seeing at Easter: Jesus carrying a cross while being whipped by a Roman soldier.
Luis Benavides, who played Jesus, said that he's sorry if he offended anyone, but thinks it's just as legitimate to have Jesus in the parade as it is to have Santa Claus. In an interview with CBS7 news, Benavides said, "Nobody calls Santa crazy. You know, nobody says, 'Oh, he's a fairytale.'" He added, "Do you want to live a lie or do you want to live in the truth?"
At the time of this writing, a video of the re-enactment has 43,000 views on Facebook, 136 comments and 433 shares. Many people have commented saying the re-enactment was out of place. Some said it was "disturbing" and inappropriate for kids, both because of the violence and because the children were too young to understand it.
Benavides believes that kids see much more shocking content on average than they saw in the parade, namely through video games. He mentioned Call of Duty: Black Ops, where players act out murdering other players. Since so many kids are role playing this kind of violence, Benavides thinks it shouldn't be that upsetting to watch Jesus, who is the entire reason we celebrate Christmas, suffer a beating.
Differing Opinions
Some Facebook users agree with Benavides. One commenter said, "Your kids play fortnight, shoot people in call of duty and I'm sure have seen some type of nudity on tv, listen to rap music and I'm sure have heard their parents cuss… and a re-enactment of Jesus carrying his cross and being whipped was offensive to your kids? lol.. we have bigger problems people."
Another said, "These same kids traumatized were the same kids that went trick or treating amongst people dressed as zombies and monsters."
One woman who was at the parade disagrees. She commented, "I was watching kids being scared by watching this they actually thought he was hurting."
Many pointed out that Jesus being whipped while carrying his cross would have been better suited for Easter, a holiday that commemorates Jesus' death and resurrection instead of His birth. One user said, "Christ died for our sins but not before he was born and lived on earth. That is why we celebrate Christmas. This was not the time or place for this kind of reenactment."
Plenty of people, however, supported the move, saying that the re-enactment only reminded everyone why Jesus was born, something people should keep in mind all year long. One man said, "Young kids need to know the real reason behind Christmas and what god sacrificed for us to live on earth."
Another said, "Jesus is to be celebrated everyday. Yes he was born this season but his death is more significant than any day we could celebrate because it was the day he died for every one of us that attended this parade. Do you only pray on Sundays???"
One woman simply observed that seeing Jesus beaten "took us from happy to wow that was serious."
A spokesperson for the city of Odessa said the re-enactment complied with the city's policies.