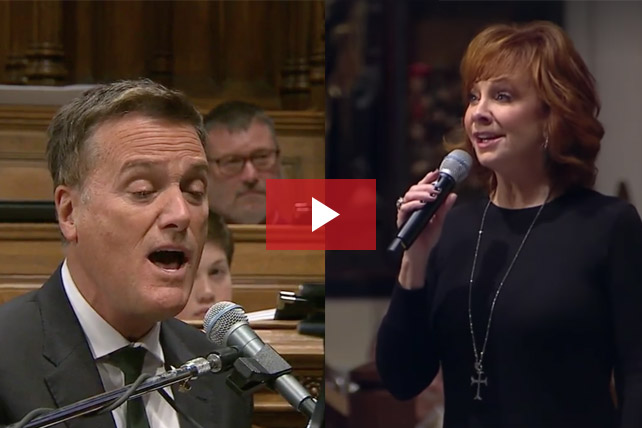 Reba McEntire paid a touching tribute to the late President George H.W. Bush at his funeral in Houston, Texas, on Thursday.
"An Honor and Privilege"
The singer brought George W. Bush to tears with her rendition of "The Lord's Prayer." In one of her Instagram posts commemorating the late president (who was a "huge country music fan"), McEntire said, "It was an honor and privilege to sing at President George H.W. Bush's funeral this morning. He was a great friend and leader and I will never forget the time we shared together."
Another friend who paid tribute to the 41st president is Christian singer Michael W. Smith. Smith performed his song "Friends" Wednesday at the president's funeral in Washington D.C. Accompanying him were the Armed Forces Chorus, the U.S. Marine Orchestra and the National Cathedral Choir.
"Friends" was a fitting homage to the 41st president, who had personally asked Smith to perform the song at his funeral:
Though it's hard to let you go
In the Father's hands we know
That a lifetime's not too long
To live as friends
The singer first met George H.W. Bush in 1989 when Smith performed for NBC's "Christmas in Washington" special. After the performance, the president invited Smith to the White House, thus beginning their 29-year friendship.
Country and gospel group The Oak Ridge Boys also performed at Bush's Houston funeral, giving a rendition of "Amazing Grace" and joking that the president erroneously thought he was a good bass singer. The quartet first sang for him in October of 1983 when Bush was the Vice President and sang for him many times in the decades to come.
President George H.W. Bush passed away at his home on Nov. 30th. After the Houston service, a train resembling Air Force One carried the president to the Bush presidential library at Texas A&M, where he was laid to rest.