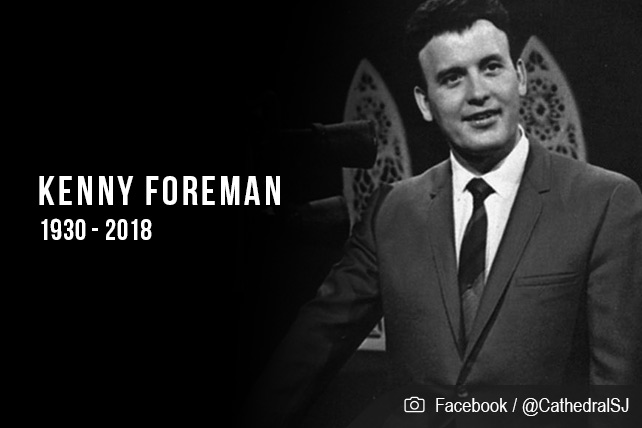 Kenny Foreman, founder and pastor of the Cathedral of Faith megachurch in San Jose, California, passed away on Dec. 16th. The Mercury News of San Jose reports that Foreman died at age 88 from prostate cancer. He leaves behind his wife, two sons, four grandchildren, two great-grandchildren and a legacy of faith.   
"My dad loved people," says his son Kurt Foreman. "I got to see him in front of crowds and behind the scenes and he was the exact same person."
Kenny Foreman was born in Crowley, Louisiana, and began sharing the gospel around the country at age 17. During his travels, he met Shirley, the woman who would become his wife. After marrying and later ministering at a church in Kansas City, Missouri, the couple left with their sons Ken and Kurt to take leadership of Friendly Bible Church in 1965. Renamed "Faith Temple," the church eventually became Cathedral of Faith.
A Journey of Faith
In the mid-1970s, the church body was growing, with "thousands of congregation members coming to know the Lord." In a video on the church's website, Foreman describes the journey of faith he went through as the church pursued a new campus. They originally thought the cost would be $1 to 1.5 million, only to find out the estimate was actually $4.5 million. They started building until they owed $775,000, at which point Foreman decided to stop going into debt and halted construction for nine months.
Foreman believed the venture had failed and describes coming out to the property feeling extremely discouraged. After praying, he got back into his car, driving aimlessly because he was so depressed. Then God spoke to him.
I've had very few times when I know that I know that I know God spoke to me. It was in that moment that God began to give me these words: "Frustrations are not final, mistakes are not fatal, and delays are not denials." I mean, I knew that I'd heard from the voice of the Lord.
Foreman went to his staff and told them God would provide, even though he didn't know how or when. And God did provide, little by little, through various means. As the project drew to a close, one woman ended up tithing the exact amount of money they needed to complete it.
A Thriving Legacy
Today, Cathedral of Faith has over 12,000 members, 11 campuses and over 200 ministries. Foreman's son Kurt says that his dad was not only an "innovator" but also that he "had a heart for the poor." One of the ministries that Foreman cherished most is Reaching Out. This food ministry "distributes over $16 million annually in food, provides food for families at 37 local public schools and is Northern California's largest food outreach."
The church's other ministries include a Family Life Center, a facility for health, fitness and recreation, a youth center, and the University Prep Academy, which serves over 600 7-12th grade students. U.S. News and World Report has named it one of America's best high schools.
A Celebration of Life service is scheduled in Foreman's honor for January 5th, 2019.