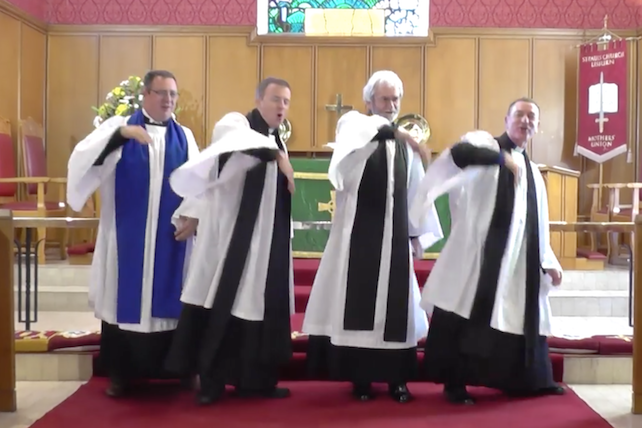 A video posted by a church in the city of Lisburn, Northern Ireland, has gone viral in a small way on Facebook. St. Paul's Lisburn is an Anglican church whose members filmed a video of themselves doing various activities to the song "My Lighthouse" by the band Rend Collective. The Christian band is based out of Bangor in Northern Ireland.
The church's video is both cheesy and endearing. It starts with the church doors opening to a minister singing and welcoming viewers in as the song begins. We then see the church members engaged in various activities, singing and sometimes dancing to the song. St. Paul's has a variety of groups that meet for different purposes. Some are specifically related to the church, such as the praise team, choir and ministry team. Other groups are recreational. For example, there are the Knitwits (apparently a knitting club) and the Ramblers (a group of people who meet to go on walks throughout the countryside). The video also shows church members ministering to people in different ways, such as by washing cars or serving community lunch.
Sincere Light
The video ends with a shot of the church building and the text: "Jesus, the light of the world. St Paul's, shining that light into the community." It's a fitting ending to a video set to a song about God being our lighthouse, that is, a source of stability and hope amid darkness and uncertainty:
I won't fear what tomorrow brings
With each morning I'll rise and sing
My God's love will lead me through
You are the peace in my troubled sea
You are the peace in my troubled sea
While some might see the video as hokey, it's also charming because of its sincerity. The church members present an unvarnished picture of their church—with a little singing and dancing added in. We get to see different generations of the church body participating together in the life of the church, enjoying one another's company, and serving other people.
What's more, through creating the video, the church demonstrates that it not only has an active community but also that it is trying to be relevant by reaching out to people through social media. And finding creative methods for outreach is important in an increasingly secularized country.
In the video's comments, one user congratulated Rev. Arthur Young for bringing St. Paul's "back to life." Another said, "This church certainly isn't dead," while another person commented, "We need to see more churches doing things like this—makes me want to be a part of your fellowship!!"
When instituted as the new rector at St. Paul's in the fall of 2016, Young told the Diocesan News, "God has opened the door to me to move back north and I feel that the time is right… My heart is for the people and for sharing the good news of Jesus with them, and for pastoring and caring. That is what I will continue to do at St Paul's."
You can watch St. Paul's video here.