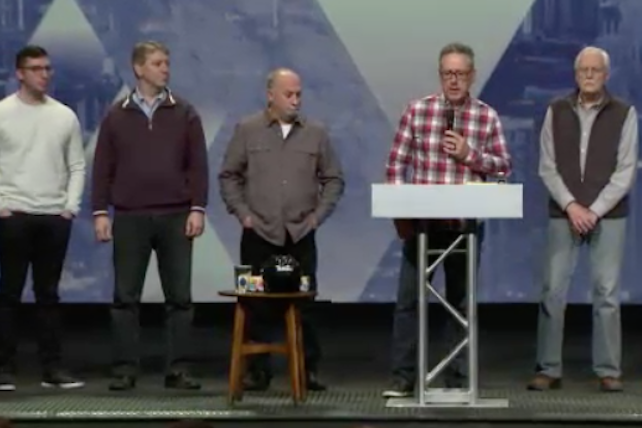 The elder board of Harvest Bible Chapel addressed the ongoing controversy surrounding the church and its founder, James MacDonald, from the pulpit on Sunday. In a shaky voice, a spokesman for the leadership team announced it was "getting low before the Lord."
Additionally, the board announced MacDonald agrees "it is wise for him to remain out of all leadership involvement of Harvest Bible Chapel—including preaching at any campus." This position appears to be an adjustment from a January 16 announcement which said MacDonald may preach at the Naples campus during his "indefinite sabbatical."
The group of men gathered on stage behind its spokesman, Dan George, and made the announcement to its Chicago-area campuses, but its Naples, Florida, campus did not receive the message, according to journalist Julie Roys. Instead, according to a Naples campus church member who spoke to Roys, "Elder Fred Ananias simply told the congregation that it had been a tough week and that there was a bit of a crisis."
Roys reported that John Secrest, the Naples campus pastor who was fired last week, allegedly over his voicing concern over MacDonald preaching at his campus, sent an email to Naples members commenting on the lack of communication coming from the leadership at Harvest. "The silence from church leaders has left many confused," he wrote.
Despite the silence from leaders in Naples, though, the elder announcement to the Chicago campuses made the situation seem like more than "a bit" of a crisis. The elders mentioned several "shortcomings" and "failures" they were now prepared to acknowledge. They articulated a handful of areas in particular that made the group aware they needed to review the decision-making process of the elder board and church leadership in general.
Harvest Bible Chapel Lawsuit, Relational Conflicts, Naples Conflict Addressed
The two areas the board emphasized it is committed to reviewing are as follows:
"Through years of ministry, there have been relational hurts that have not been fully addressed. We desire

strongly

for reconciliation wherever there are broken relationships in or around our church. We are committed to a process that brings healing."

"…Reviewing the structure and decision-making process of the elder board, the executive committee and our church leadership. Circumstances surrounding the fallout of Harvest Bible Fellowship, the recent defamation lawsuit, and the termination of the lead pastor of the Naples campus have each revealed shortcomings in the decision-making process of the elder board and church leadership… We will build a team of people to review our current structure."
The team that will review the leadership structure of Harvest will include "elders, staff, church members and experienced outside counsel" that the group is convinced "will help us move forward in a healthy way."
The elders are calling the church to pray every week for a month and they are "confident the church will come out stronger."
In Naples, Secrest has also asked that congregation to pray. "Please be in earnest prayer today and in the coming days, calling on the Lord to bring peace and healing, repentance and reconciliation for His glory. Let us be together on our knees praying for unity," he asked.
---
More on Harvest Bible Chapel:
The Harvest and James MacDonald Controversy Explained
James MacDonald's 'indefinite sabbatical' Is Effective Immediately

Harvest to Drop Lawsuit Against Critics