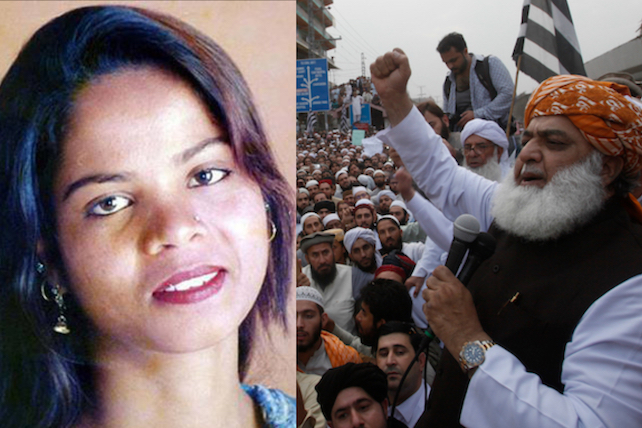 On Tuesday, January 29, 2019, Pakistan's Supreme Court is scheduled to consider a petition against their decision to acquit Christian Asia Bibi of blasphemy charges (and a consequential death sentence). Pending the decision, Bibi could either be released on the spot or sent back to death row.
"God willing, she will have the decision in her favour tomorrow. She will be a free person to go anywhere she wants to," said Bibi's lawyer, Saif ul-Malook.
Malook flew back to Pakistan from the Netherlands this weekend to represent Bibi for what he hopes is the last time in court. Malook fled Pakistan after the court first announced its decision to acquit Bibi. Bibi, her family and her lawyer were under numerous threats from an angry mob that managed to shut down movement in Pakistan's biggest cities for a few days in protest. Government officials finally made a deal with members of the extremist Muslim group Tehreek-e-Labaik Pakistan (TLP), allowing a travel ban to be placed on Bibi until her case could be reviewed in exchange for an end to the violent protests.
During this tenuous time, Bibi has been held at an undisclosed location, partly for her protection, and likely partly to appease the mob that is determined to see her killed. It is now being reported that Bibi's children have made it safely to Canada. In November, Prime Minister Justin Trudeau announced he was engaged in a very "delicate" process to arrange asylum status for Bibi and her family in Canada. It appears his labor was successful. As for Bibi's husband, some reports suggest he is in hiding with her, having also been forced into hiding by angry protestors.
According to NDTV, a panel of three judges will hear the case tomorrow. It is more than likely that all three judges have received death threats following their October 2018 ruling of Bibi's case. However, Malook is undeterred in his conviction that Bibi will be released. According to Malook, Bibi's opposition has "filed the petition on flimsy grounds. They haven't attempted to counter her release on constitutional grounds."
While most reviews are dismissed relatively quickly, Bibi's case is a sensitive one. If she is freed, there will likely be another round of protests by those who object.
Bibi has already spent eight years on death row for charges of blasphemy. The incident occurred in 2010. The Catholic Herald explains:
Asia Bibi's "crime" was to drink water from a supply used by Muslims. As a farm worker, she was in the fields alongside Muslim women when she took a drink of water. They objected because she was an "unclean" Christian. Beaten by an angry mob, she was rescued by police, but a few days later she was accused by a local imam, who had not been present at the incident, of insulting Muhammad. She was sentenced to death under Pakistan's stringent blasphemy laws a year later.
Please pray the court rules in Bibi's favor tomorrow and that she able to leave Pakistan and rejoin her family without further harm.