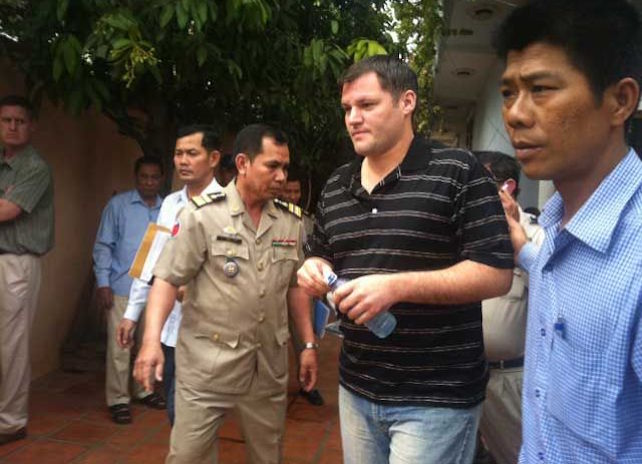 A judge has sentenced Daniel Stephen Johnson, a resident of Coos Bay, Oregon, to life in prison. Johnson sexually abused children at an unlicensed orphanage he ran for several years in Cambodia. Said the U.S. Attorney for the District of Oregon,
The despicable nature of this defendant's conduct is beyond understanding. Whether you are abusing children in this country or abroad, you will be pursued and held accountable in a court of law. The fact that this defendant abused children under the guise of being a missionary and orphanage operator is appalling.
Johnson has been convicted on six counts of engaging in illicit sexual conduct in a foreign place, one count of travelling with the intent to engage in illicit sexual conduct, and one count of aggravated sexual assault with children. He has received life in prison for the latter conviction and 30 years for each of the other seven, to be served consecutively.
The orphanage was located in Phnom Penh, Cambodia, where during 2005 through 2013, Johnson "systematically and repeatedly" abused at least 10 children ranging from seven to 18 years old. The children would sometimes awake to Johnson molesting them, and he would occasionally give victims small portions of food or money afterward.
According to a report from KLTV News, Johnson worked as a Christian missionary for a nonprofit called Hope Transitions, based in Gladewater, Texas, and funded the orphanage through support from various churches.
Authorities Crack Down
U.S. officials located Johnson overseas after a warrant was issued for his arrest in an unrelated case in Lincoln County, Oregon. Cambodian National Police (CNP) arrested him in 2013 based on the testimony of children at the orphanage and while working in collaboration with the FBI. A non-governmental organization that works to protect children, Action Pour les Enfants (APLE) was also involved. In addition to arresting Johnson, Cambodian authorities ordered the orphanage to pay $1000 in fines. At the time of his arrest, Johnson claimed that APLE had bribed the families of the children who were accusing him.
While Johnson claimed that his accusers were being pressured into testifying against him, there were indications that he was actually pressuring his victims to drop their complaints. Several in fact did so.
Cambodian authorities sentenced Johnson to a year in prison in May 2014, and after his sentence was complete, handed him over to the FBI, who escorted him back to the U.S. pending trial. While building their case, the FBI interviewed over a dozen children and adults who had been at the orphanage. During that time, Johnson apparently again attempted to pressure witnesses into not testifying against him. Before his trial, he pled "not guilty" to all charges.
FBI Special Agent Renn Cannon said, "This case should serve as a warning to those predators who believe they can hide their crimes—whether here at home or half-a-world-away. We will always stand with the victims, and we will always work to bring justice in their names."