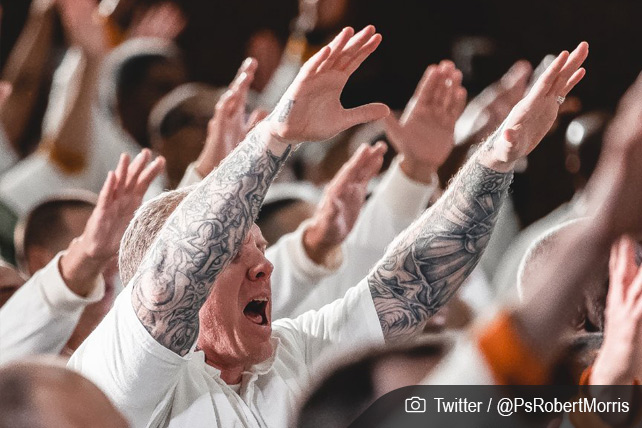 Last Sunday, Pastor Robert Morris of Gateway Church in Texas made a very special announcement to his congregation. Morris told his multi-site congregation that the church had launched a new campus back in November. However, most Gateway members will not be able to attend church at the newest location.
Morris explained the newest campus is located inside the largest prison in Texas. Speaking to Fox News, Morris said he wants the members of the new campus to know "we love them and God loves them, and they are our brothers and sisters in Christ."
According to Fox News, the prison is a 90-minute drive from the Dallas area and houses 4,000 inmates. The Coffield Campus is open to the prison's 2,000 minimum security offenders. While only minimum security offenders can attend the services as they choose, medium security offenders can attend only on special occasions. Medium security offenders were allowed to attend the launch in November. As for the maximum security offenders, this group receives materials from Gateway Church, including the church magazine, devotionals and books.
On November 28, 2018, over 650 inmates showed up at the campus' first service. The "Coffield Unit" is led by Pastor Stephen Wilson, an ex-offender turned pastor who has been ministering to prisoners at Coffield for several years now. Wilson told Fox News, "My first meeting to launch a Gateway Prison Campus happened seven years ago. We've been praying for this for seven years."
Morris said that the campus has witnessed 500 salvations since its official launch in November. One Coffield attendee was visibly affected by the church's willingness to reach out to prisoners. In a video that included footage from the Coffield campus, the attendee said "a lot of us don't have visits and you guys coming in here and sharing y'all's love to us has really impacted our lives."
As a matter of discipleship, the Coffield Campus operates like other Gateway campuses, with inmates filling roles such as ushers, sound techs and worship team members to make the service run smoothly.
The Coffield Prison isn't the only prison that Gateway intends to reach. Morris said they are working to launch 10 more campuses in the next two years.
Gateway's Senior Pastor, Jimmy Evans, said, "We want the people in the prisons to have a church while they're in and when they get out, so they can be integrated back into society. People in prison need a church, and we want to be a church family—literally."
You can watch the announcement Morris made from Gateway's Southlake campus, which includes footage of the new Coffield campus, in the video below.