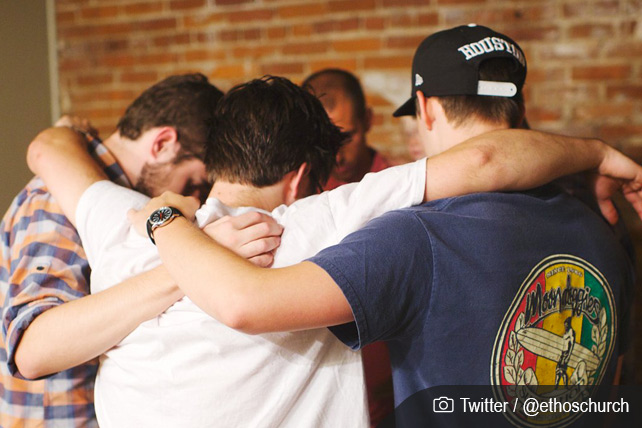 In an impressive show of Christian unity, about 40,000 people from more than 400 Nashville-area churches have embarked on a month-long initiative to pray for every local citizen by name. Awaken Nashville is billed as "a city-wide movement of prayer and fasting unifying the body of Christ to strategically intercede for every person" in the surrounding area.
Dave Clayton, founding pastor of Ethos Church, says he and his wife came up with the idea because they love Nashville and want all its residents to know God's goodness. "We've got a really deep prayer culture in our church," Clayton says of Ethos. "We've seen God do a lot of neat things, and we thought, 'Let's try to extend that to the city.'"
Partnerships Make Awaken Nashville Possible
Because almost 2 million people live in the 13-county Nashville metro area, Ethos needed help to pray for everyone. So Clayton developed relationships with local pastors and church leaders, encouraging them and their congregations to participate. "It's just one simple way we're trying to serve people," he says.
When Awaken Nashville kicked off on January 27 at the Ryman Auditorium, participants each received a packet containing a list of 15 names, addresses and postcards, instructions, and guides about prayer and fasting. Free resources—in both English and Spanish—are also available online to download and share. Households aren't limited to just one packet, and some people have jumped on board mid-movement, as word spreads about Awaken Nashville.
Clayton says they're "basically praying through the phone book" and "hoping to write a handwritten note to every person in the city, just letting them know they're loved by God." To make sure no one gets overlooked, volunteers also compiled names of homeless people, local college students, unlisted immigrants and incarcerated people.
Participants Are Committed to Prayer and Fasting
People who take packets are encouraged to write and send postcards, letting each recipient know they're being prayed for by name. During the month of prayer, Awaken Nashville participants also agree to fast, whether from certain meals or from something such as social media.
Kevin Queen, pastor of Cross Point Church, says the "best-case scenario" is that prayer recipients experience "something different" during the 30-day movement. Getting a postcard in the mail will then start "connecting some dots that, 'Wow, there was something happening or moving in my life. I was knowing more love, or more peace, or more joy,' and maybe, maybe they attribute that to, 'Hey, there was another person who was praying for me.'"
The Awaken Nashville website lists several reasons behind the comprehensive prayer project: Scripture and history both reveal a "clear connection between faithful prayer and Spirit-filled revival," the city needs such an awakening, and "no person is beyond the reach of God's transforming power." Ultimately, all those churches and people are kneeling together "for the sake of those who don't yet love and follow Jesus," the website says.
For organizers and participants, Clayton notes, there's a "deep conviction that it starts in just praying."