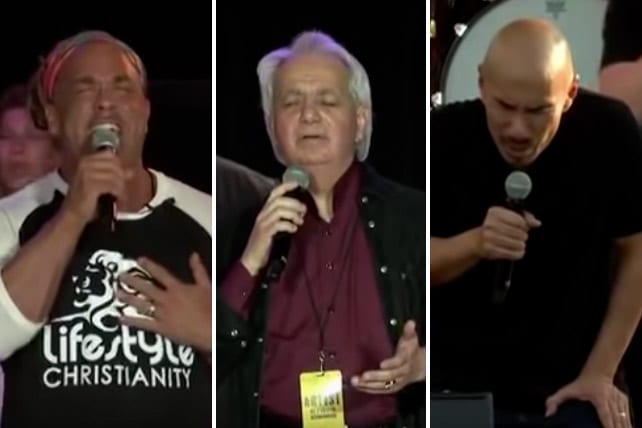 Former pastor Francis Chan has ignited controversy by speaking on February 23rd at The Send conference, a stadium event that included, among others, speakers Mike Bickle and Todd White. Adding fuel to the fire caused by Chan's association with these men was a photograph that emerged online showing Chan with televangelist and prosperity gospel preacher, Benny Hinn. Chan has responded to recent criticisms in a post here.
I recognize, now more than ever, that sometimes my participation can give the impression that I align with every other speaker at the event. I'm not sure what to do about that other than to tell you that I don't. Unless the elders of my church direct me differently, I will continue to be found preaching in venues with those I disagree…The elders and I are trying to come up with more safeguards for future events to hopefully prevent misunderstandings. Pray for us.
The Send Conference
The Send's Facebook page says the conference aims to encourage people to pursue "a NEW ERA of Missions & Evangelism. A central part of The Send is making practical commitments to adopting a mission field." There also seems to be a significant focus on prayer and fasting.
One post on the page says, "As we raised our shoes in Camping World Stadium, declaring our 'yes' before the Lord—our willingness, our yes, our desire to go anywhere for the sake of the Gospel, it was undeniable we were standing in a Holy Moment. There is no going back…we are unashamed of the Gospel."
Why the Controversy?
Mike Bickle leads the International House of Prayer of Kansas City (IHOPKC). On its website, the ministry describes itself as "an evangelical missions organization that is committed to praying for the release of the fullness of God's power and purpose, as we actively win the lost, heal the sick, feed the poor, make disciples and impact every sphere of society." Some of the reasons why some see Bickle as controversial are his association with the charismatic movement and his ministry's focus on prophecy and ecumenism.
White is controversial for a variety of reasons, one being that he is a "street healer." He has also called prosperity gospel preacher Kenneth Copeland his "spiritual father." In this video, White and Copeland discuss their belief that, as Christians, we have a "heavenly account," and that we have to put something into it to get something out of it. "Jesus is the banker," Copeland tells White, who nods and says "Amen." How do people withdraw from this account? Copeland quotes Mark 11:23-25 and says the answer is sowing in the form of giving to the leaders of the church.
Chan's Defense
In Francis Chan's response to his critics, he spends a fair amount of time explaining why he rejects the prosperity gospel. He goes on to explain why he takes speaking engagements with people who have different theology than he does. One reason is that he believes it will benefit the attendees to hear from a variety of perspectives instead of listening to a group of speakers who all agree with each other.
Chan also says that he doesn't research every teacher that he speaks with: "It has not been my practice to ask who will share the platform with me and to research the other speakers." He argues that some of the people at the conferences he speaks at will potentially never hear biblical truth if he is not willing to go: "I might be fooling myself, but I feel like the Spirit enables me to lovingly confront difficult issues. And I have seen repentance result from it."
Chan also explains that while he is willing to call out false teachers, he wants to be cautious as he does so and careful to collect all the relevant data he needs, particularly when there is so much misinformation available. He notes that he has wrongfully accused people in the past out of his own pride and does not want to make that mistake again. He writes, "As a dad, it's a terrifying thought to know that I inappropriately slandered one of God's sons or daughters." Chan indicates that researching fellow speakers is something his team will now spend time on.
Regarding the photograph with Benny Hinn, Chan says that because he is a high-profile speaker with numerous speaking engagements, he ends up taking "thousands of pictures with complete strangers." He believes it would be rude to refuse when people want a picture with him. This Twitter user observes that the reason Chan took a picture with Benny Hinn was because a conference attendee was going around getting pictures with famous people. Benny Hinn was not on The Send's lineup of speakers, although he did appear on stage at one point and prayed for the attendees.
Critics Counter
In the video at the bottom of this article warning Christians that Chan is a false shepherd, Chan does appear to praise White, grouping him among "bold men of God." The author of this article argues that Chan needs to stop associating with prosperity gospel preachers and points to 2 John's exhortation not to show hospitality to false teachers. Yet another blogger believes that, while there is hope for his repentance, Chan has gone too far and that Christians should no longer see him as trustworthy.
For his part, Chan asks that as believers seek to identify false teachers, they be careful not to falsely accuse good ones: "As we diligently confront false teaching, let's show equal fervency in defending those who are truly our brothers and equal zeal in confronting those who unnecessarily divide the body."