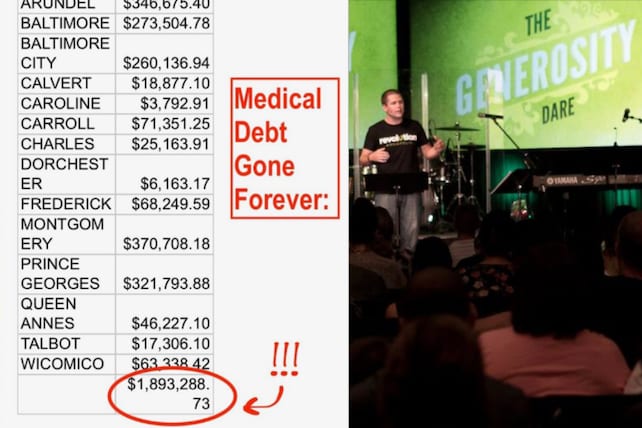 Medical debt is the top reason Americans file for bankruptcy, and now churches are taking action to have it forgiven. In Maryland this week, 900 families received letters saying their medical debt had been completely erased, courtesy of "Churches of Annapolis."
Revolution Annapolis, a mobile church that meets in an elementary school, donated $15,000 to the nonprofit group RIP Medical Debt. It, in turn, purchased medical debt through the collection system for pennies on the dollar, wiping out almost $1.9 million of debt. The 900 families will face no legal or tax consequences.
Revolution's original goal was to erase medical debt for Annapolis residents, but the $15,000 donated by congregants during the Christmas season was enough to erase all medical debt in 14 Maryland counties. Debt sizes ranged from $200 to $100,000.
Kenny Camacho, lead pastor of Revolution Annapolis, says the church of 170 members was inspired by a Texas church that paid off more than $10 million of medical debt last Easter, and by TV host John Oliver, who purchased and forgave $15 million of medical debt in 2016.
A Gift of Hope, No Strings Attached 
Camacho emphasizes that the church has no ulterior motives, and absolutely no strings are attached to the gift. "Forgiving medical debt is not part of a strategy to get people to attend or give to local churches," he says. Instead, it's "a practical and tangible way that we can help people—regardless of whether they are part of a church or not—experience forgiveness that impacts their lives in a meaningful way."
This outreach, the pastor adds, is part of the church's belief system of being the good news in the community. "The church should exist so that people can have hope, period," says Camacho. Forgiving medical debt is a "taste of the larger message that we would like to communicate to people about what it means to have debt forgiven," he adds. "We want Annapolis and Maryland to look different because we are here."
In the future, Revolution hopes to team up with other churches and nonprofits to address the "debt ladder," buying and forgiving medical debt "at its source."
Forgiving Medical Debt Is a Relevant Ministry
Revolution's generosity comes amid news that the Trump administration is moving to strike down the entire Affordable Care Act, under which 20 million Americans currently receive health insurance. Experts say people with low incomes and pre-existing conditions are most at risk if that happens, but the country's entire health-care system could be upended.
In a study published by the American Journal of Public Health earlier this year, two-thirds of bankruptcy filers said medical debt was a contributing factor. Other studies show that one-fifth of Americans are burdened by medical costs, with African Americans impacted the most. 
Mike Jackson of Oklahoma City, who battles a chronic health condition, sums up the plight of many Americans: "It's one of those things where, if something happens to my car or to me healthwise, I'm in trouble. If anything goes wrong, I'm one step away from disaster."