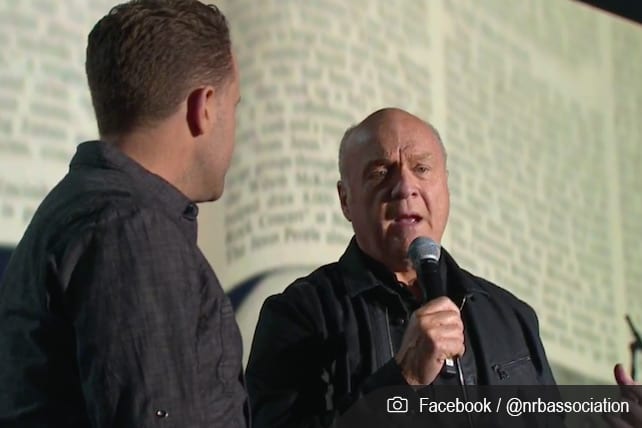 At the National Religious Broadcasters (NRB) convention this week in Anaheim, California, filmmakers from the new Kingdom Studios announced a faith-based venture with distributor Lionsgate. Speaking at an NRB keynote address, director Jon Erwin said Kingdom Studios will release two Christian movies in theaters annually, with the goal of telling "stories that strategically [bring] people to the Gospel."
One of the first films Kingdom Studios will release is Jesus Revolution, about America's spiritual awakening in the early 1970s. Erwin told NRB attendees he was inspired by what happened during the period between two notable Time magazine covers: "Is God Dead?" in 1966 and "The Jesus Revolution" in 1971. He became obsessed with the Jesus Movement and how it "rescued a generation," and he decided to tell that story through the life of Greg Laurie.
A Teen in 'search mode' Finds a Family in Jesus Movement
Laurie, senior pastor of Harvest Christian Fellowship in Riverside, California, grew up near the movement's epicenter in Southern California. The cards were stacked against him, says Laurie, now 66. He had no father and an alcoholic mother who married and divorced seven times. Laurie grew up fast, he says, but his life changed in high school when he accepted an invitation to attend Calvary Chapel in Costa Mesa.
"It was like liquid love," Laurie says of that "immersive" spiritual experience. Contemporary Christian worship and music were "born before our very eyes," he adds. "It was a work of the Holy Spirit." Laurie was baptized at age 17 and found the father figure he'd been longing for, amid a group of believers who were "sold out for Jesus."
Laurie, who's producing the Jesus Revolution film and wrote a book of the same name, says he wants moviegoers to understand what that movement was like. He also believes America needs—and can experience—a similar revival today.
America Is Due for Another Revival, Laurie Says
"Our country was going the wrong way fast" in the late '60s, Laurie says, with drugs, the sexual revolution, broken families and toxic political divisions. In many ways, he notes, America is in the same situation today, with people searching for answers and seeking unity and healing.
We need to pray that Millennials and Generation Z experience their own Jesus Revolution, Laurie says, because they tend to be lonely, feel disconnected and have high suicide rates. Revolution is cyclical in nature, Laurie adds, and America has a pattern of a new spiritual awakening occurring every half a century. That means we're due for one again.
"We overly mystify the word revival," Laurie says, noting it's simply a restoration, or a return to something's original condition. In the case of Christianity, he says, it's a return to conditions of the early church, when the Holy Spirit worked through a band of disciples—without social media or mass communication—to "turn their world upside down."
Laurie, who launched Harvest Crusades in 1990 to conduct large-scale evangelism, says, "I believe the fame of revival spreads the flame of revival." He says he likes this definition of awakening and revival: "When God gets so sick and tired of being misrepresented he shows up himself."
No release date has been set for Jesus Revolution, which initially received funding through a Kickstarter campaign.