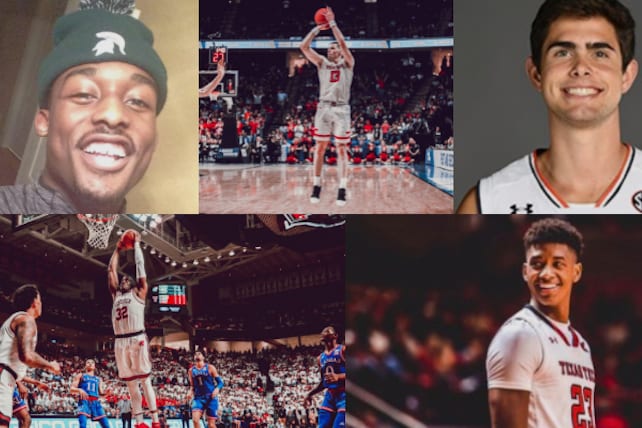 Redemption was a key theme at the conclusion of the 2019 NCAA men's basketball tournament, with Virginia bouncing back from last year's shocking defeat to claim its first title. But for many players and coaches who were in the national spotlight during the Final Four, off-the-court redemption matters much more.
Both the Virginia Cavaliers and the team they defeated in overtime, the Texas Tech Red Raiders, made headlines for being vocal about their Christian faith.
Faith Is the 'heartbeat' of Texas Tech 
After defeating Michigan State in a Final Four semi-final Saturday, the Red Raiders knelt for prayer in their locker room. Although CBS cut away from the scene, the team's statement was clear. "I know nationally [prayer is] not accepted and not the norm," says chaplain Corbin Young. But "it was no shock to me, knowing the identity of this team. That's the heartbeat of who they are. Faith plays a huge part in the core values of this team."
It's been "a beautiful thing" to see Texas Tech come together and grow spiritually this year, Young says. Some players set up a weekly Bible study; others told reporters about reading Scripture daily and quoted verses during interviews.
Young, who texts team members daily, offered encouragement after Monday's loss. "It's so amazing that God's love is not based on our performance," says the chaplain. "His love doesn't change, win or lose the national championship." Young also reminded the young men that the sport isn't their identity. "Basketball is just what they do, it's not who they are," he says.
Texas Tech senior forward Norense Odiase says "having a good relationship with Christ, it just fuels me, and it keeps me going." As a pastor's kid, Odiase "grew up in a household where God is the center of everything that we do." Part of his family's faith practice, he says, involves getting up at 5 a.m. to start the day with prayer. Odiase's faith also has helped him cope with the death of two cousins in a car accident this spring.
Jarrett Culver, another Red Raider who's the son of a pastor, says faith is key in his life and success. "Before games, I'm praying and reading my Bible. It's a routine now," he says. "I feel like God is with me on the court, and he protects me. It's big for me."
Texas Tech player Matt Mooney received kudos for being gracious after Monday's disappointing loss. In an emotional post-game interview, he said, "Throughout sports, my faith has been tested a lot. There's more to life than the game of basketball. There's an eternity. At some point, the ball will stop bouncing." Mooney, who says the Holy Spirit told him to transfer to Texas Tech, put Joshua 1:9 on his sneakers for inspiration during the tournament. "I know that God never leaves my side," he says.
Virginia's Coach Uses 5 Biblical Pillars
Tony Bennett, who's led the University of Virginia Cavaliers to five NCAA tournaments in his nine years at the helm, calls Jesus "the greatest truth I know." The coach once said, "I have great things in my life—my love for my wife, my love for my family, my love for coaching, my love for basketball. Those are wonderful things, but when you line them up in comparison to Christ and the relationship you have with him, with what he's done for you and with what he's given you, they don't compare."
After Monday's victory, Bennett's first words were, "Thank you. I'm humbled, Lord." Amid the celebrations, he urged his players to remain humble too. "Don't let this change you," he told them.
In a 2014 interview, Bennett said, "If my life is just about winning championships—if it's just about being the best—then I'm running the wrong race." The coach, who became a Christian as a teenager at a Fellowship of Christian Athletes camp, leads his team according to five biblical pillars: humility, passion, unity, servanthood and thankfulness. "It's not just lip service. We really believe in them," Bennett says. "Whether you're a believer or not, those are significant for a team."
Last March, after Virginia became the first number-one seed to lose to a number 16 seed, Bennett quoted Psalm 30:5, "Weeping may endure for the night, but joy comes in the morning." This year, after earning the school's first championship, he played the song "Hills and Valleys" by Christian artist Tauren Wells. The shocking 2018 loss "will always be part of our story," Bennett says, "but this is a new year."
The coach, who prays regularly for his players, says, "It's my hope that they'll be able to find the truth in their lives that has really transformed my life." But he also tries to respect their individual journeys.
Other Final Four Players Also Glorify God
The Auburn Tigers made it to the Final Four for the first time this year, losing to Bennett's Virginia team by one point Saturday. But team members praised God amid the defeat. "My sole purpose on the earth is to glorify God," says forward Thomas Collier. Being a Christian means you "want to work as hard as you possibly can for the Lord," he says, but "that doesn't mean God will bless you with a win." What's important to remember, Collier adds, is that "God will have a perfect plan for you."
Michigan State, which lost to Texas Tech Saturday, also has vocal Christians on its roster. Sophomore guard Joshua Langford relied on his faith to deal with an injury this year while supporting his teammates. "It's allowed me to have a good foundation," he says of his faith. "I've just been trying to figure out what else God has placed inside of me." Langford, who credits God with healing him from a life-threatening illness at age 12, told USA Today as a high school senior, "We are here for something more important than basketball, and that's Christ."