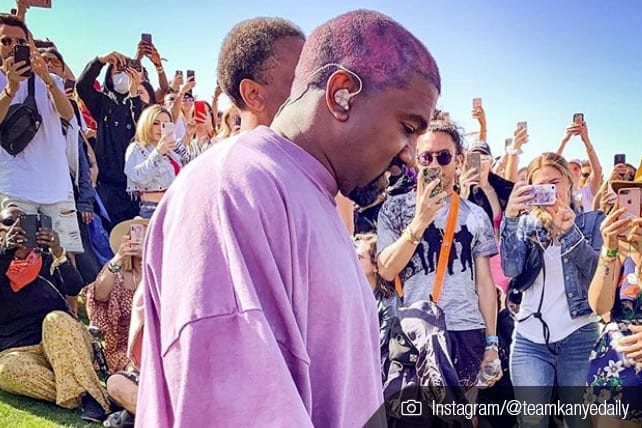 For the past few months, Kanye West has been holding what he calls "Sunday services," exclusive and private gatherings featuring gospel music. But this past Easter Sunday, he held one such service publicly at the popular music festival, Coachella. While it seems that Kanye is co-opting Christianity for his own purposes, we can learn something by looking at people's reactions to his "services."
"Many of [the audience members] are surely drawn to Sunday Service out of some sort of meaningful longing," writes Jia Tolentino of the The New Yorker. "These young people who can afford to pay four figures to behave badly and photograph well in the desert are pursuing absolution, too, in their way. So many things today seem, upon reflection, like a cry for help disguised as a demonstration of cultural capital."
Did Kanye West Start His Own Church? Not Quite.
At the very beginning of 2019, Kanye began holding weekly "church services," which essentially are concerts with a Christian flavor. During these events, a choir performs gospel songs, as well as gospel renditions of Kanye's own music. The location changes every week, and attendees have reportedly included Katy Perry, Orlando Bloom, David Letterman, and Tyler, the Creator. All guests have to sign an NDA, but there are clips of the events on social media.
View this post on Instagram
When asked about the "church" on Jimmy Kimmel, Kim Kardashian West told Kimmel, "it's more of just a healing experience." Kardashian West explained that there's no praying or sermon, but that "it's just music and it's just a feeling." But it's music with a "Christian" flair because, as Kimmel pointed out, "Otherwise, it's a concert, right?"
In a video on Twitter, singer-songwriter Tony Williams (who is also Kanye's cousin) says, "Why the Sunday service? The goal is to be able to communicate the message of love effectively…that is what we hope you take from this." Many, however, believe that all of the services are simply a marketing tactic for Kanye to build up his next album.
Easter Morning
According to TMZ, 50,000 people gathered to watch Kanye perform the morning of Easter Sunday for about two hours–although it turned out he actually performed very little. People had to watch from a distance as Kanye West, a gospel choir, and others performed from the top of a hill. [Note: video contains language some may find offensive.]
Guests included Chance the Rapper and DMX, and the setlist featured actual gospel songs, covers of other artists (such as Stevie Wonder), and Kanye's music. Something else notable was Kanye's merch, which he called "church clothes." Socks were priced at $50, and sweatshirts at $225, which, The New York Times observed, "was a reminder that, gospel music aside, this was not in fact church."
It's Troubling and It's Working
Many people, even those who are not Christians, have found what Kanye West is doing distasteful. A writer for Vox said, "As a lapsed suburban Methodist who completed at least 900 hours of Sunday school and Bible camp earlier in this life, I am obligated to point out that Jesus explicitly hated it when people attempted to use worship services as money-making opportunities."
The fact that Kanye West was the creative director for the Pornhub Awards last fall is only one of a multitude of examples of why him claiming to promote church seems insulting. There's also the fact that he titled his last album, Yeezus, and has made comments comparing himself to God. Yet, not only did 50,000 people get up to watch his performance but the line for his merch was quite long.
This is the end of the line for Kanye's merch tent at #Coachella. The line is long. Very long. pic.twitter.com/MUBUecAsXE

— James H. Williams (@JHWreporter) April 21, 2019
People's Reactions Can Teach Us Something
It's true that there were negative responses to Easter Sunday's performance and general annoyance at the fact that the whole show was livestreamed through a peephole camera.
However, one Twitter user commented, "Do you know how many survivors just got on the mic? From Kanye West to Chance to DMX? Mental health, drugs, family issues, prison and they're all still standing like proud men in front of the world."