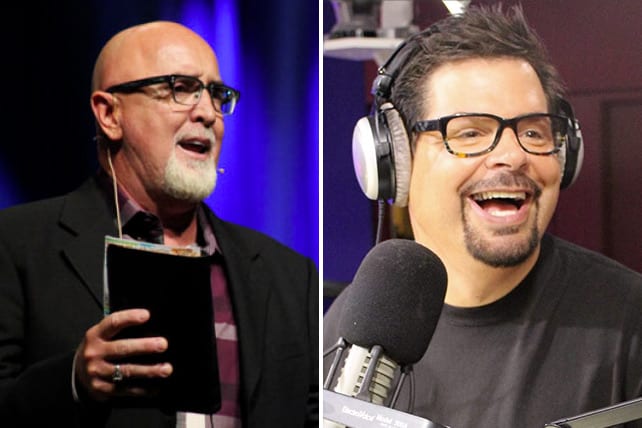 New allegations have surfaced in the continuing saga of fired megachurch pastor James MacDonald. Illinois police are investigating whether the founder of Harvest Bible Chapel tried to have someone commit murder for him.
Last week, Chicago radio host Mancow Muller recorded a podcast that he described as the "nuclear option." Muller waited until yesterday to release the show, saying he wanted to file a police report first.
Mancow Muller Dropped "The Bomb"
On the show, Muller alleges that MacDonald "wanted me to have someone killed for him." Muller said, "He wanted to hire a hitman, and my understanding was to kill one of his rivals. And at that moment I realized I was in a cult, this guy was bad and I couldn't support it any longer." Muller emphasizes he didn't think his former friend and spiritual adviser was kidding.
After airing the podcast, Muller tweeted: "'The bomb' is dropped. I don't want anyone to be hurt but Harvest hasn't been transparent. Others need to be protected. W/ a heavy heart I post the podcast. Really didn't want to! Sad."
Independent journalist Julie Roys, who's been covering the Harvest scandals, says Muller texted her about his reluctance to go public. "Nobody wanted ANY of this," he said. "We wanted to worship Jesus Christ and instead we got the devil's messenger in Boss MacDonald."
Another Murder-for-Hire Accusation Has Been Made 
Roys also reports that Emmanuel "Manny" Bucur, a former Harvest deacon and volunteer bodyguard for MacDonald, claims MacDonald asked him to commit murder. Bucur alleges that during a 2015 motorcycle trip, the pastor requested help to "take Tony out." MacDonald reportedly feared that Tony Groves, his son-in-law, planned to post damaging material about MacDonald's daughter online.
MacDonald allegedly said Bucur's background as a combat Marine veteran would be useful for the task. Bucur says he refused but didn't tell anyone else, assuming MacDonald was angry and "had a momentary lapse in judgment," Roys reports.
But after hearing Muller's account, Bucur decided to go public. "When I heard that [MacDonald] was crazy enough to ask someone else to basically do the same thing," Bucur says, "I figured, OK, this guy's unhinged. This is a problem. It's a pattern here."
Bucur filed a separate police report, but only one investigation is currently underway. Solicitation of murder carries a 15- to 30-year prison sentence in Illinois.
MacDonald Is Pursuing Arbitration Against Harvest 
MacDonald was fired in February after Muller played audio of the pastor using profane language. Harvest's elder board was also fired, MacDonald's sons—both pastors at Harvest—resigned, and Moody Publishers stopped carrying James MacDonald's books.
According to a May 18 post on Harvest's website, MacDonald is "pursuing arbitration" regarding his firing. The church contends his "termination was with cause" and that it owns the Walk in the Word broadcast ministry.
Amid allegations of financial impropriety, the Evangelical Council for Financial Accountability suspended Harvest's accreditation in March. In April, ECFA terminated their accreditation. Harvest leaders say they're asking MacDonald to pay back the church for "unreimbursed personal expenses."
In addition to questionable spending, MacDonald also has been accused of having an intimidating leadership style and displaying a "pattern of uncontrolled anger." MacDonald and Harvest previously sued Roys and some bloggers, trying to prevent investigations into the pastor and church.