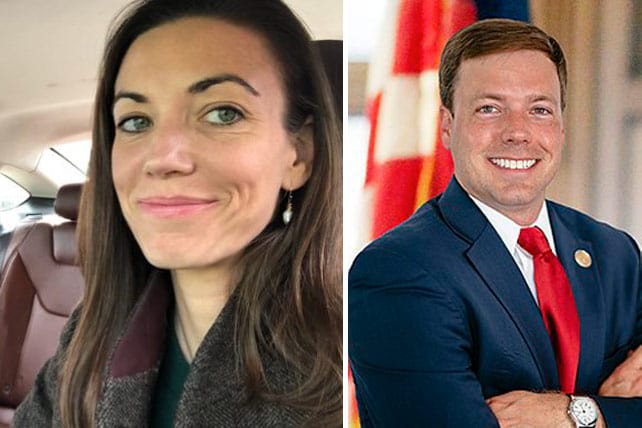 After a Mississippi gubernatorial candidate invoked his Christian faith to deny a ride-along interview request, a reporter took him to task for gender discrimination. State Rep. Robert Foster, a Republican running on a Tea Party platform, informed journalist Larrison Campbell she'd have to bring a male colleague to spend a day with Foster on the campaign trail.
When Foster and Campbell appeared on CNN's New Day this week, Foster defended his policy of not being alone with a member of the opposite sex—known in evangelical circles as the Billy Graham rule. Foster calls it "very professional" and "part of the agreement" he made with his wife.
Robert Foster Says People's Perceptions Matter
Foster describes his request as a precaution to avoid the "awkward situation" of being alone with a female reporter for an extended time period. Other candidates were assigned a male reporter, which Foster says would have been acceptable for him. "This is my truck, and in my truck we go by my rules," he says.
When asked if trust is a factor, Foster replied, "I trust myself completely, but I don't trust the perception that the world puts on people when they see things and they don't ask the questions, they don't look to find out the truth. Perception is reality in this world, and I don't want to give anybody the opinion that I'm doing something that I should not be doing."
Foster apologized to Campbell that his rule "may hurt your feelings" but added he'd "much rather uphold my vows to my wife." He says he never wants to be in a situation where a woman could make a false accusation against him without a witness present.
On Twitter, Foster says he isn't surprised "the liberal left lost their minds" over his stance: "They can't believe, that even in 2019, someone still values their relationship with their wife and upholds their Christian Faith."
Campbell Says She's Being Unfairly Excluded
"Why is it my responsibility to make you feel comfortable?" Campbell asked the candidate in response. "Why is the onus on me to bring someone along?" She says Foster's campaign director admitted to her that bringing a chaperone was a "weird request."
The argument of impropriety also doesn't fly for Campbell, an experienced political reporter. "Why does it appear improper for a man to be with a woman?" she asks. "Why wouldn't a gay affair be construed if he were with a man? Unless, at the end of the day, what you're saying here is a woman is a sexual object first and a reporter second."
Campbell says, "We got to call this what it is. When a woman isn't given access to the same things that a man would be given access to, it's sexism." She tweeted: "Some men don't want to change. So they're asking women to go the extra mile so they can hold onto their outdated views."
Women contend that gender-based limitations hamper their career success and exclude them from professional opportunities.
Foster, who doesn't regret his decision, says, "I am confident that a majority of Mississippians understand that this isn't about gender discrimination, rather a personal conviction."