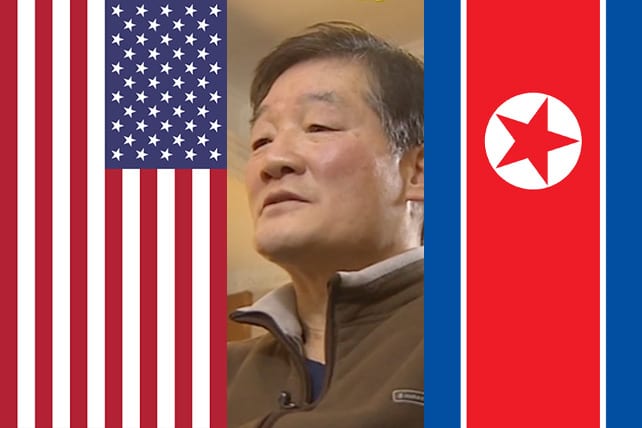 Kim Dong-chul, a Korean-American Christian who was detained for two and a half years in North Korea and freed last year along with two other men, has recently opened up about his actions in North Korea to a news outlet. While most of the confessions that people make while being imprisoned under unbearable conditions in such nations as North Korea can generally be written off as invalid, Kim claims his confession, which was made at a press conference in North Korea last year, was mostly true.
"I filmed footage with a watch (equipped with a camera) and used electromagnetic wave wiretapping equipment," Kim told NK News in an interview earlier this month. 
In the press conference, Kim confessed to collecting government and military secrets during his time in North Korea and relaying the information to South Korean intelligence. Now, Kim says he was also working with the U.S. Central Intelligence Agency to collect information that the U.S. would find "very significant." In particular, Kim says the U.S. asked him to find information about the North Korean military and nuclear program. 
"The CIA detected a suspicious vessel at the Rajin port through satellite imagery…and asked me to take very close-up photos of it and figured out what it was being used for…I delivered that information just before (my arrest)," Kim told NK News. 
Despite Kim's statements to NK News, the U.S. State Department, CIA, and South Korea's National Intelligence Service have not confirmed Kim's claims.
Christian Pastor or Spy? Or Both?
As we reported in May 2018, Kim told Reuters at the time of his arrest in 2016 that he is a Christian pastor who had worked in China and the United States. A North Korean defector, Ma Young-ae, told Reuters that she had met Kim in the United States and he had told church gatherings he was a missionary helping North Koreans.
"He told the churches that he was a missionary working on North Korea and sending stuff from China into the North to help poor North Koreans," Ma told Reuters by telephone, recalling Kim making speeches around California and Virginia in 2007 and seeking donations.
However, the article in NK News outlines Kim's business ventures in North Korea and his wife's connections to leadership in the North Korean government. He used his wife's connections to establish missionary work in China and North Korea, although the article does not mention what kind of work he was involved in.
Kim and fellow U.S. citizen-prisoners Tony Kim and Kim Hak-song were all involved in some kind of missionary work in North Korea when they were arrested on a variety of anti-state charges. Tony Kim was teaching accounting at Pyongyang University of Science and Technology while also volunteering at an orphanage. He was detained at the airport in April 2017 while trying to leave the country. Kim Hak-Song was accused of "hostile acts" in May 2017. He had been doing agricultural development work at the research farm of Pyongyang University of Science and Technology and was living in Pyongyang.
When he was arrested and "locked up in a forced labor camp," Kim Dong-chul says he was beaten so severely that parts of his body were paralyzed. NK News reports he is unable to walk properly due to the torture. He also says he tried to take his own life a few times. 
Kim Dong-chul says he now regrets his acts of espionage, although he's trying to use the rest of his life wisely. "While thinking deeply about North Korea and the Republic of Korea, I'm contemplating what I live for and how to valuably use the life I'm living on borrowed time."